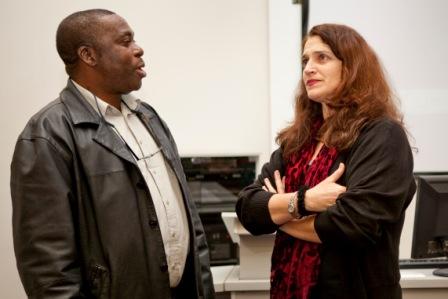 Dr James Gambiza and Ms Juanita Finestone-Praeg, well-deserved winners of the Vice-Chancellor's Distinguished Teaching Awards, presented their lectures at Rhodes last week.
Ms Finestone-Praeg, lecturer in the Drama Department, choreographer and Artistic Director of the First Physical Theatre Company, spoke first, on the topic 'Difference is revolting', and opened with a video clip from "Shattered Windows", the production which placed First Physical on the dance map.
The production was, says Ms Finestone-Praeg, the first opportunity audiences had to experience the nihilistic physical impulses of the genre, and to see how it rebels against the classic dance academy and the gendered social body.
The immediacy of presence in physical theatre allows for questions of difference to be raised and explored within the space created by the performers and the audience. It "constructs a perception appropriate to the making of performance... Passivity is the complete antithesis of the moving body."
A believer in the small, the "intimate revolt", Ms Finestone-Praeg described for the audience her experience of training in the Japanese art of Butoh and how it required her to truly deconstruct the teaching and learning context, in the process 'unlearning' a great deal.
She is a believer in conscious teaching and the use of heightened awareness to absorb and impart information and skills, and she describes a process of active learning, requiring the engagement of both the teacher and the learner, and nurturing notions of dialogue and curiosity.
As with Butoh, Ms Finestone-Praeg takes an ethical rather than institutional approach, believing performance to be both alive and adaptable according to the capacity of each performer.
Senior Distinguished Teaching Award winner Dr James Gambiza was next to the podium. Choosing to discuss 'Teaching and Learning in Higher Education', he prepared for this lecture by running a small scale research project. Approaching previous winners of the Distinguished Teaching Awards, he presented them with a number of questions, among which were "What is good teaching? How do students learn? How did you integrate your teaching philosophies and theories of learning into your work?"
Using discourse analysis to analyze his data (a technique he credited Dean of Teaching and Learning Chrissie Boughey with teaching him), his results provided a thought-provoking and most enjoyable lecture. All previous recipients of the awards were unanimous: you cannot effectively teach if you do not enjoy it. Be prepared for the unusual, and do not be caught off-guard by change. Recipients agreed that one never actually "arrives" as a teacher. It is an ongoing learning process both for teacher and student.
In this age of instantly accessible information, Dr Gambiza warned that the nature of teaching will change, and that the greatest challenge in the next decades will be information overload. Bearing this in mind, it is important to be aware of students' needs; as Dr Gambiza put it, "remember that they are people with lives outside of their presence in your lecture theatre. If you respect them, and take them seriously, they will feel able to contribute to their own learning process."
In fact, the need to create a space for learning, in which student and lecturer are jointly engaged, was a feature not only of the responses from past recipients of the Teaching Awards but also a theme strongly emphasised in both Dr Gambiza and Ms Finestone-Praeg's speeches.
At the end of the evening, the audience, who filed out enthusiastically debating points raised by both speakers, were left in no doubt that their awards were well deserved.
Picture: Dr James Gambiza and Ms Juanita Finestone-Praeg
Story by Jeannie McKeowin
Picture by Sophie Smith.
Source:
Please help us to raise funds so that we can give all our students a chance to access online teaching and learning. Covid-19 has disrupted our students' education. Don't let the digital divide put their future at risk. Visit www.ru.ac.za/rucoronavirusgateway to donate