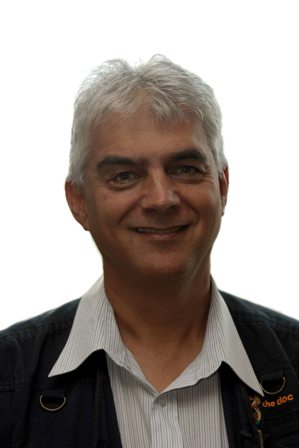 The School of Journalism and Media Studies Professor Guy Berger has been appointed as the new UNESCO Director of Freedom of Expression and Media Development.
Prof Berger said he is excited, somewhat nervous, but also sad to be leaving Rhodes after spending more than 16 fruitful years at his alma mater.
The Director of Freedom of Expression and Media Development at UNESCO is a job with a global remit, which will challenge Prof Berger to learn and think more widely than South Africa and Africa.
He is expected to start in his new job in Paris in November, at a time when UNESCO will be holding its biennual inter-governmental conference.
Prof Berger started working at Rhodes mid 1994 and he headed up the School of Journalism and Media Studies until this year. During that period he has overseen many of the school's projects such as the New Media Lab, Highway Africa conference and the Sol Plaatje Media Leadership Institute. He also lectured and researched in new media, media policy, convergence and journalism education, and supervised 25 postgraduate theses.
"I've also published almost 60 books/monographs and/or chapters in books, 25 articles in accredited journals, and delivered more than 200 public presentations. I have also contributed 200 editions of a fortnightly column the Mail & Guardian, and numerous blog posts at the School's nml.ru.ac.za website," said Prof Berger.
Over the past years, he estimates the School has fundraised more than R60m under his leadership.
"This university, country and continent have developed me to be able to make these contributions more broadly, so my leaving now is not a loss as much as a tribute to this context. Importantly, Africa is a UNESCO priority, so a lot of my work will still mean working with people I have come to know while at Rhodes," he added.
"I have learnt a great deal intellectually as well as practically about media freedom and media development, and I hope to put it work in my new job."
Prof Berger initiated the annual media freedom celebrations here at Rhodes, and helped to arrange a colloquium on the topic last year. He also oversaw the acquisition of Grocott's Mail by the School and chaired its board from 2003 until this year.
Commenting on Prof Berger's UNESCO appointment, Rhodes Vice-Chancellor, Dr Saleem Badat said: "Through his intellectual leadership and superb networking and fundraising skills, Guy has made an immense contribution to building the quality and reputation of the School of Journalism and Media Studies.
"Through his efforts and that of other staff the School enjoys great prestige across Africa and internationally. This was very evident at the recent annual Highway Africa conference."
Dr Badat said he had "no doubts that he will not be entirely lost to Rhodes or South Africa. I am certain he will continue to provide ideas and advice and collaborate with the School in various ways."
The Vice-Chancellor said that the directorship position comes at a moment when Berger had been seeking a larger and wider platform on which to contribute his knowledge, expertise and skills. The position will allow him to apply his vision on a global scale.
"UNESCO is most fortunate to have secured his services and the University wishes him well as he begins a new phase based in Paris," says Dr Badat.
Of his plans at UNESCO, Berger says that if the organization agrees to the call for a World Day of Access to Information, as articulated at Rhodes-convened conferences in Cape Town recently, "that is something I would relish promoting". He adds, "I hope Rhodes will be proud of what I eventually achieve there."
The Vice-Chancellor is confident that the great depth and breadth in the School of Journalism and Media Studies will rise up to the challenge of losing someone like Guy's calibre from their ranks.
Source:
Please help us to raise funds so that we can give all our students a chance to access online teaching and learning. Covid-19 has disrupted our students' education. Don't let the digital divide put their future at risk. Visit www.ru.ac.za/rucoronavirusgateway to donate