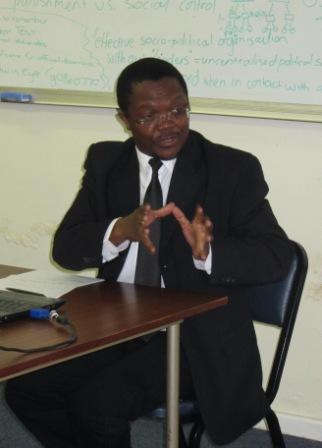 Contesting the view that the ANC's 2007 Polokwane conference was simply a progressive renewal of the organisation and the tripartite alliance, Sakhela Buhlungu, professor of Sociology at the University of Pretoria, was at Rhodes recently to share his views on the different meanings of Polokwane.
Prof Buhlungu was in Grahamstown as part of the departments of Political and International Studies and Sociology's Critical Studies seminar series.
Prof Buhlungu argued that Polokwane had different meanings for the different blocs that made up the victorious faction at the conference. Prof Buhlungu spoke of the "entanglement" between the various factions and the complex dynamics this leads to with regards to leadership dynamics.
Overlapping leadership between ANC, COSATU AND SACP officials at national, provincial and regional levels and questions around who makes policy continue to plague the alliance, he said.
For Prof Buhlungu, not acknowledging these dynamics and presuming that Polokwane was about a renewal of party politics and growth of the left is to miss the complexity of the mixture of dynamics involved.
In "COSATU and the contested meanings of Polokwane 2007: A critical assessment", Prof Buhlungu highlighted the emergence of factionalism and certain projects including neotraditionalism, ethnic mobilisation and private accumulation during the conference.
He also flagged the emergence of a culture of impunity: "The consensus that held everyone together was general amnesty…which has now created a culture of impunity," he said, which in turn has had the effect of dropping charges, both criminal and other, against members of the alliance groups.
"Since then people turn a blind eye to corruption. It is about self enrichment and nepotism. That is the heart of what Polokwane was about… It was about getting off the hook," said Prof Buhlungu.
Likening the Zuma presidency to Mbeki's, Prof Buhlungu said they are "cut from the same cloth" in that "Mbeki had his thieves protecting him and Zuma does too", adding that "the problem we're sitting with as factionalism re-emerges is that the challenge to the culture of impunity threatens to unravel the Zuma presidency." If you send Malema to jail you'd have to send many other politicians, he said.
Questioning the nature of the entanglement between leaders of the alliance, Prof Buhlungu said that although it provides "a very useful way of mobilising consensus", by its very nature it can also hinder effective governance. "This begs the question of when will South Africa have a nonaligned alliance where unions can do their own thing?"
Predicting that the upcoming ANC national conference to be held in Mangaung in May next year will be "filthy and unseemly", he said; "If you think Polokwane was difficult I think this is going to be even more difficult."
Prof Buhlungu has held professorships at the Universities of Johannesburg and the Witwatersrand, where he was head of department and acted as co-director and director of the Sociology of Work Unit (SWOP). Prior to joining SWOP as a Research Officer in 1994 he worked in unions and labour-supporting organisations.
He has done research and written widely on the changing nature of trade unionism in South Africa, union movements' political engagement, industrial relations, political activism and the "new" social movements.
He has presented his work at numerous seminars and conferences around the world and has served in various academic and public bodies, also publishing widely in nearly 60 academic journal articles, more than 20 chapters in books and five books. His most recent publications are A Paradox of Victory: COSATU and the democratic transformation in South Africa (UKZN Press, 2010) and Trade Unions and Party Politics: Labour Movements in Africa, edited with Bjorn Beckman and Lloyd Sachikonye (Cape Town: HSRC, 2010).
Story and photo by Sarah-Jane Bradfield
Source:
Please help us to raise funds so that we can give all our students a chance to access online teaching and learning. Covid-19 has disrupted our students' education. Don't let the digital divide put their future at risk. Visit www.ru.ac.za/rucoronavirusgateway to donate