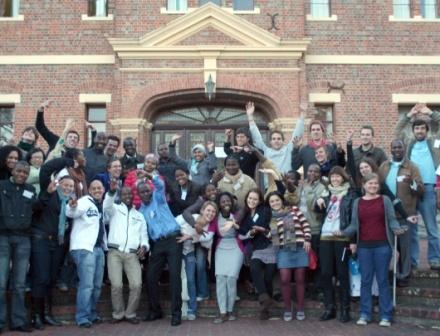 The newly formed BlueBuck Network, created out of environmentally-minded students and young professionals from across the Southern African region, was inspired by a handful of Western and Eastern Cape students who initiated the first BlueBuck summit hosted by the South East African Climate Consortium Student Forum (SEACC SF) at Rhodes University.
As a founding organisation of the BlueBuck Network, SEACC SF has created a network of student-led environmental organisations across four campuses in the Eastern Cape, namely Rhodes, Fort Hare, Walter Sisulu and NMMU.
The BlueBuck Network tries to do the same on an a national level: a project brought together by students from SEACC SF and Galela Amanzi at Rhodes, the Green Campus Initiative (GCI) at UCT, and EcoMaties in Stellenbosch.
The summit which took place in July featured talks by, among others, Dr Tony Ribbink from the Sustainable Seas Trust (SST), as well as presentations given by successful student organisations and projects from campuses around South Africa.
The network is the brainchild of the chairperson of Galela Amanzi, Jai Clifford-Holmes, who presented the idea of a national youth coalition to the Brightest Young Minds conference in 2010, an idea inspired by his close relationship with SEACC SF.
"We found that there is a lack of environmental organisations at most universities in South Africa and, when there is an active organisation, they duplicate efforts or do not have any institutional support," said Olek Kaminski, the SEACC SF vice-chair, and facilitator of the BlueBuck summit at Rhodes University.
He says there has been "a poor build-up, from both government and civil society" to this year's COP17, held in Durban in November this year. "Traditionally students from all over the world get involved in COP, and South Africa has a strong history in student activism during our apartheid years, yet most of the youth today are focused on politics of the past.
"We need to also start looking at politics of the future, as climate change will affect each and every one of us," Olek emphasised.
The summit was quickly brought to the attention of students from Tunisia, Tanzania, Zambia and Swaziland, of which the latter two attended the summit.
Vice Chancellor Dr Saleem Badat supported the gathering and organised to fund some of the events. Dr Badat opened proceedings by saying that the environmental crisis is "a crisis of society" and that social and environmental justices are inseparable. Therefore, it is imperative that a sustainable development paradigm is created which can serve both crises.
Dr Badat's words were echoed by Dr Ribbink during his presentation on the Saturday, when he said the sciences mean nothing without social consideration.
Other influential speakers included Prof Heila Lotz-Sisitka - a much sought after speaker at international events on environmental education - and Lawrence Sisitka who spoke about finding alternative paradigms to development.
A Lebanese PhD student, Mona El Zogb, facilitated workshops towards her research on the attitudes and perceptions of South African students to climate change. "Everyone who attended was really impressed by the calibre of the speakers, especially students who do not have active environmental organisations on their campuses, or lack the resources and institutional support to make a substantial difference," said Olek.
On the Sunday, members of the founding organisations facilitated a day-long workshop to solidify what it meant to be a BlueBuck and how the network was going to work with all the members present.
The new committee, with representatives from all over Southern Africa, created a vision to bring BlueBuck to all campuses around Southern Africa and to try and link up with international networks such as 350.org.
In the pipeline is a web-based network through which environmental student organisations and projects can exchange information and ideas and collaborate on projects. The network also approached the Journalism 4 Design class at Rhodes to design a logo for them, which is currently part of this year's syllabus.
The new BlueBucks of Southern Africa are gearing towards COP17, as they aim to provide a united student front as the future leaders of Africa. The committee already has the experience of students who have attended previous COP sessions as well as important connections with youth organisations such as Generation Earth.
Story by Anna-Karien Otto
Source:
Please help us to raise funds so that we can give all our students a chance to access online teaching and learning. Covid-19 has disrupted our students' education. Don't let the digital divide put their future at risk. Visit www.ru.ac.za/rucoronavirusgateway to donate