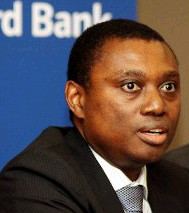 STANDARD Bank Group CEO Jacko Maree, who has been at the bank for more than 32 years, shed a tear yesterday as his newly appointed successors, Ben Kruger and Sim Tshabalala, and a packed house bid him farewell at the annual results presentation.
Standard Bank took the unusual step of appointing two CEOs yesterday, following a structure similar to that of Germany's Deutsche Bank.
The appointment of Mr Tshabalala and Mr Kruger as joint CEOs may be a deft way of heading off criticism that could have come with the appointment of a single CEO.
Analysts said appointing Mr Kruger as sole CEO could have raised concerns that Standard was not committed to transformation at top executive level. On the other hand, appointing Mr Tshabalala alone could have provoked an affirmative-action backlash.
Standard Bank chairman Fred Phaswana, who is also due to retire in two years' time, described the two executives' skills as being complementary.
Asked why the bank did not hire one of the two as a deputy who would succeed the other, Mr Phaswana said: "This complementarity was so strong for us it was also something where the two people, because of the complementarity and emotional compatibility, would work much more easily and much more happily as joint CEOs than any other construct and we ended up there."
Mr Kruger is a senior banker, who has been with Standard since 1985, while Mr Tshabalala is a rising star who has been with the bank since 2000.
Mr Phaswana said the board had unanimously agreed in favour of the joint-CEO design as it believed it was the right thing to do at this time.
Mr Kruger said he had six years before retirement.
On regulatory issues, Mr Phaswana said there were no serious issues with the Reserve Bank. But the regulator had initially raised questions on how Standard would manage the risk of some responsibilities "falling through the cracks" between the two CEOs.
The other issue was how the chairman would control two CEOs.
Mr Phaswana said the bank had convinced the regulator that it had systems in place to manage the risks.
"The regulator is not looking at how we manage but the governance and systemic risks the bank may have," Mr Phaswana said.
Registrar of Banks Rene van Wyk concurred, noting that the appointment of CEOs remained the responsibility of relevant shareholders.
Corporate governance doyen Mervyn King described the appointments as unusual, but said it was difficult to make a call without all the facts.
"It may be that one has special skills as a leader in one area and the other has special skills as a leader in another area," Mr King said.
"The critical issue could be how they relate to each other and their respective relationships with the chairman."
But analysts criticised the design, saying it seemed as if the bank did not know who to replace Mr Maree with.
"Sim is 45 years old — in fact older than when Jacko when he took over — whilst Ben is 53. Is the business that complex that the two need to separate their duties?" asked Vestact Asset Management's Sasha Naryshkine.
JustOneLap investment analyst Simon Brown said it was "very odd" and seemed to suggest an inability to decide, or weakness.
Story by: PHAKAMISA NDZAMELA
Picture Source: www.howwemadeitinafrica.com
Source: Business Day
Source:
Please help us to raise funds so that we can give all our students a chance to access online teaching and learning. Covid-19 has disrupted our students' education. Don't let the digital divide put their future at risk. Visit www.ru.ac.za/rucoronavirusgateway to donate