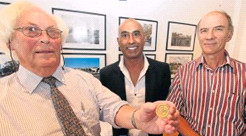 Van Wyk Smith celebrated for lifetime contribution to language.
A RETIRED Grahamstown English professor who spent more than half a century teaching thousands of students – and wrote several acclaimed books – has received a top award for distinguished service to language.
Former head of the Rhodes University English department Professor Malvern van Wyk Smith was awarded an English Academy of Southern Africa gold medal for his lifetime achievements as a teacher, academic and literary scholar.
Professor Charles van Renen – a former student of Van Wyk Smith's who retired from the Nelson Mandela Metropolitan University last year – was awarded a Thomas Pringle Award for a published educational article on renowned author Roald Dahl.
Dozens of people turned up on a hot Saturday afternoon at the National English Literary Museum's (Nelm) Eastern Star Gallery to see Van Wyk Smith and Van Renen get their awards from Academy president Professor Rajendra Chetty.
"The English Academy is proud to be associated with Professor Van Wyk Smith and we consider him a most deserving recipient of this accolade," Chetty said.
"Professor Van Wyk Smith has made major contributions to English in South Africa beyond his role as a scholar and English teacher."
Besides his university work and published material, he spent years as a member of the joint matriculation board and chairman of its English committee – "a major investment of time and commitment in the service of English through its national influence on the school system".
Although retired, he still serves on the Nelm council, on the board of the Dictionary Unit of South African English and is an Albany Museum trustee.
Accepting the award, Van Wyk Smith said apartheid had left a stain on English.
"We lost at least two decades in the 1970s and 80s – in the throes of apartheid and academic boycotts – wrangling in the mudbaths of polemic rather than engaging in the hard graft of scholarship.
"Literary theory does not make good frontline reading, poems are not petrol bombs, and conference halls become venues for comedy rather than discovery when they are mistaken for combat zones."
He said another reason for the fragility of South African critical discourse in recent times was a lack of finances. Unlike years ago when academics could go with their families for year long sabbaticals around the world, hard times meant it did not happen nowadays.
Van Renen's educational article entitled Roald Dahl's Chickens: How do they roost in the 21st Century challenged established ideas. The paper was even praised by Dahl before his death.
"He once wrote there is nothing in your dissertation to which I disagree," Van Renen recalled.
Caption: RECOGNITION: Professor Malvern van Wyk Smith shows off the prestigious English Academy of Southern Africa gold medal while Professor Rajendra Chetty and Professor Charles van Renen look on.
Story and Photo by David Macgregor
Source: Daily Dispatch
Source:
Please help us to raise funds so that we can give all our students a chance to access online teaching and learning. Covid-19 has disrupted our students' education. Don't let the digital divide put their future at risk. Visit www.ru.ac.za/rucoronavirusgateway to donate