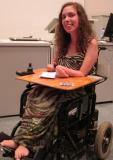 The Nobel Peace Laureates' Medal for Activism winner in 2012, Chaeli Mycroft, delivered an inspiring Rhodes University's Human Rights Week keynote address yesterday (Sunday, 03 March 2013) and spoke about her journey as an "ability activist".
"My activism comes from my disability, but is also because of the way I have been raised not to see myself as a victim. Yes, I have a disability, but I have many abilities as well and they outweigh the fact that I can't use my legs," says Mycroft.
"Apart from being a really awesome life experience, winning the awards was so much more because, through meeting those people, I had the opportunity to change their perception not only of disability, but also of ability, because I am an ability activist," she added.
Having lived with cerebral palsy all her life, Mycroft is spreading a positive message. When she was just nine years old, together with her older sister and three close friends, they co-founded the Chaeli Campaign.
By selling hand-made cards and miniature pot plants, the five children successfully raised R20000 towards purchasing Mycroft a motorised wheelchair in just seven weeks. That was in 2004 and their work continues today.
"The Chaeli Campaign was started for me, but once my needs had been met it would have been selfish for us to stop rather than give support to other people," she said.
Thanks to the award and the continued support of KidsRights, Mycroft is now able to have the full university experience, living in residence with a personal assistant despite the high costs incurred by doing so.
She is now a first year student at the University of Cape Town (UCT). Though University is a challenge, Mycroft is determined to experience student life in all its facets and continually pushes her institution to make campus life even more accessible for those with disabilities.
"My definition of activism is relentless optimism because we can fight for years and we get only so much, but that much is worth it," she explained.
Mycroft's mother, Zelda, added that part of the battle is in changing the conversation from one of sacrifice, where individuals and institutions see only the challenges of accommodating a disabled person, to one of inclusion and universal accessibility, where the value-adding possibilities of inclusion are recognised.
Taking the audience through photographs of herself at theme parks, doing wheelchair dancing, and horse-riding, Mycroft argued that people with disabilities need to assert their right to be themselves and enjoy their lives. "We have a right to be accepted the way we are without people trying to put us in little boxes that we do not fit in to," she said.
Mycroft will be participating in the Cape Argus Pick n Pay Cycle Tour this month as part of a campaign called Chaeli Conquers. She hopes to inspire people to not only conquer the issues in their own lives, but also help others to do the same.
In 2011 she was awarded the International Children's Peace Prize.
Photo and story by Kyla Hazell
Source:
Please help us to raise funds so that we can give all our students a chance to access online teaching and learning. Covid-19 has disrupted our students' education. Don't let the digital divide put their future at risk. Visit www.ru.ac.za/rucoronavirusgateway to donate