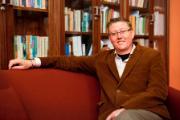 African Language Studies in Association with the National Research Foundation (NRF) South African Chairs Initiative (SARChI Chair), will host the Southern African International Folklore Conference from 11-12 September at Rhodes University.
The conference is hosted at Rhodes as part of an initiative of the NRF SARChI Chair in the School of Languages within the African Language Studies Section. Keynote speakers include the following renowned scholars, Professors Ruth Finnegan (UK) and Ekkehard Wolff (Germany).
"Part of the brief of the Chair is to intellectualise our languages. Part of this intellectualisation is documenting and creating appropriate literary histories of our languages," said SARChI Chair in the field of Intellectualisation of African Languages, Multilingualism and Education, Professor Russell Kaschula.
"The main objective of the conference is to bring together scholars of African Oral Literature in order to see how our literatures and languages can underpin and assist with the documentation, preservation and dissemination of our linguistic and cultural heritage," said Prof Kaschula.
The theme of this year's conference is entitled: "I think what I am": Heritage, Identity and Social Cohesion. It has attracted renowned scholars from a variety of disciplines and challenges conventions, by highlighting the dynamic nature of culture and the links between folklore and all realms of heritage, identity and knowledge, including Science and Technology.
"It is really an appeal to re-focus ourselves on the message of black consciousness that the late Bantu Stephen Biko left us: we need to know who we are before we know where we are going, and we need to be proud Africans, proud of our languages and our heritage," added Prof Kaschula.
Prof Finnegan was born and reared in Ulster. After some four years at a Quaker school she obtained a first-class degree in classics, then a doctorate in cultural (literary) anthropology (based on fieldwork in Sierra Leone), both at the University of Oxford, followed 5 years university teaching in Africa.
Emeritus professor Ekkehard Wolff studied general and African linguistics, ethnology, and sociology at the University of Hamburg, Germany, where he received a doctorate in African Linguistics in 1972. This was followed by a second degree ("Habilitation") at the same institution in 1980, where he later became Professor of African Linguistics (1983-94). From 1994 to his retirement in 2009, he held the Chair of African Languages and Literatures at the University of Leipzig, Germany.
2014 Folklore Conference programme
By Zamuxolo Matiwana
Photo: SARChI Chair in the field of Intellectualisation of African Languages, Multilingualism and Education, Professor Russell Kaschula.
Photo by: Sophie Smith
Source: Communications and Marketing
Please help us to raise funds so that we can give all our students a chance to access online teaching and learning. Covid-19 has disrupted our students' education. Don't let the digital divide put their future at risk. Visit www.ru.ac.za/rucoronavirusgateway to donate