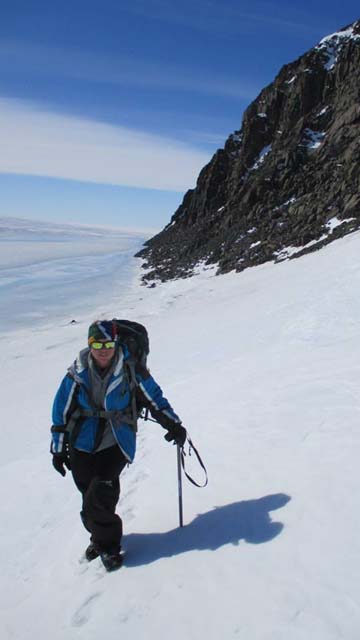 Rhodes sends two research teams (Microbiologists and Geomorphologists)
Seven researchers from Rhodes University are heading to Antarctica for the annual summer relief voyage on 30 November 2016. This is the largest contingent from any South African University on this year's expedition and includes two academic staff members and five students.
Dr Gwynneth Matcher of the Department of Biochemistry and Microbiology, will be leading an all-female team to Antarctica to research Antarctic Microbial Ecology. The all-female team is an anomaly on research expeditions to Antarctica. "It wasn't planned, but it is very exciting leading an all-female team," shares Dr Matcher.
Studying Antarctic Microbial Ecology under Matcher are PhD students Karin Staebe and Sunet van Aswegen. Staebe who will be returning for her second field stint in Antarctica explains the project her team will be working on, "this is the first research study looking at both meltwater pools, at soil and at air around the South African research station and at Troll, nobody has thought about looking at these areas and we are trying to see whether Antarctica should be broken up into more bio-geographical regions than we already have."
The second team from Rhodes University heading to Antarctica will be led by Prof Ian Meiklejohn, of the Geography Department, who will be making his sixth voyage to the continent.
Prof Meiklejohn's team of geomorphologists includes three MSc students: Jenna Knox, Tebogo Masebe and Nicola Wilmot. It will be all three students' first visit to the continent. They are researching Landscape Processes in Antarctic Ecosystems.
The SA Agulhas II will set sail on 30 November 2016 and will return on 8 February 2017. The research teams expect to reach Antarctica between 11 and 20 December, depending on the sea ice conditions. Dr Matcher will fly in on 18 December and meet her team at the Norwegian Troll Station, due to limited space on the ship.
Both groups are working in the vicinity of SANAE, the South African base situated in Western Dronning Maud Land on a nunatak (a land island in a sea of ice) called Vesleskarvet (72°S, 2°W), as well as near the Norwegian Troll Station (72°S, 2½°E).
Source: Communications
Please help us to raise funds so that we can give all our students a chance to access online teaching and learning. Covid-19 has disrupted our students' education. Don't let the digital divide put their future at risk. Visit www.ru.ac.za/rucoronavirusgateway to donate