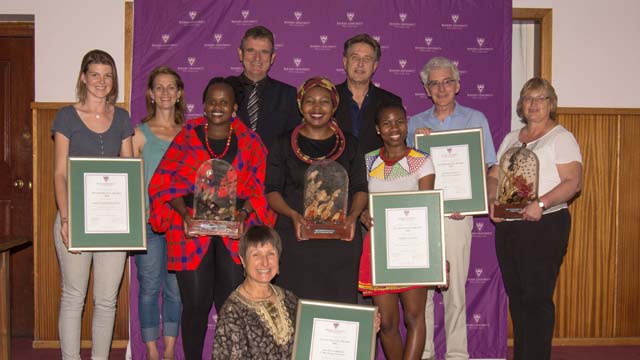 The winners of the Rhodes University Environmental Awards 2016 were presented with their trophies on Wednesday 23 November in the Senior Common Room. The winners of the Individual Award was a joint award to Prof Brian Allanson and Mrs Louw Claassens. Amina Cachalia Residence is the winner of the Student Society/Res Award and Children of the Soil (COTS) took the Makana Community Award.
This year's individual award is unique in that it is shared by two people – a young Rhodes Postgrad Researcher and a retired Rhodes Professor – who work together as one. Prof Allanson and Mrs Claassens' nomination is based on tangible evidence of meeting all the required criteria: good sustainability practice, track record, participation, inspiration and empowerment, innovative and continuity.
The pair have an impressive track record of voluntary environmental work. Through their activities they have created and developed an organisation – the Knysna Basin Project – funded in part by Rhodes University. The project was initiated by Professor Allanson 21 years ago, and with the arrival of Mrs Claassens as a PhD student in 2013, the project has gained additional energy and momentum.
Their practices are informed by a social-ecological interpretation of sustainability – recognising the integral relationship between human well-being and environmental health, and promoting practices and actions that benefit both the social sphere and the biophysical environment.
One of the main aims of their project has been to identify threats to estuaries and wetlands, draw in the local and wider community in conducting regular environmental monitoring programmes, and to promote sustainable utilization of natural resources while protecting a national biodiversity 'treasure'.
Both individuals have very close past and present links with Rhodes University and there is little doubt that their community appreciates the role played by Rhodes in their project. Their work, which is done on a completely voluntary basis, has helped raise the profile of the University, attracting the interest of national and international groups.
Amina Cachalia Residence has consistently shown a heart for promoting sustainability, and has undertaken environmentally friendly activities for many years. It is noteworthy that they have been consistent supporters of the RMR Makana Green Fun Run, and for the last three years have won the prize for the biggest res team.
Within the res, a number of tangible environmental initiatives are led every year by the serving Environmental Rep, with assistance and participation by other res students. This year, a 'Rethink the Bag' initiative was launched to make people aware of the amount of litter in South Africa, and how a large percentage of that – the ubiquitous plastic bag – could be reduced. Re-usable bags were made freely available in the res for students to take shopping and then return the bags afterwards. A Ted Talk by Hayley McLellan was shared on the res Facebook page to explain why this was important. Student feedback indicated that the project was well-accepted: they found it easy to change a small part of their lifestyle, with the satisfaction of making a big difference.
Another ongoing project in the res is a weekly recycling collection. The res has also made a significant contribution to reducing the amount of waste created by single-use plastic bottles. They initiated a weekly water collection service: the residents hand in their re-usable water bottles and pay a small fee to cover the cost of transport – the remainder going towards the purchase of low-flow showerheads for the res (to help reduce water usage). The res also promotes the importance of clean, green spaces – based on an understanding that a healthy environment is essential for human health and wellbeing. They actively promote the use and enjoyment of calming green spaces on campus, as well as nearby natural areas and hiking trails. They also plan to raise funds to buy a bench for the res garden – a great way for people to enjoy a healthy green space right on their doorstep.
Children of the Soil (COTS) is a non-profit organisation, comprised of volunteers from various walks of life. COTS was launched at the beginning of 2015. Their aim is to create awareness regarding environmental issues, and contribute to mitigating the impact of climate change by focusing on those who are most likely to be affected – the youth in vulnerable communities.
COTS promotes environmental sustainability and resilience by engaging school children in vegetable gardening, recycling, environmental awareness lessons and physical education. By planting and growing vegetable gardens, they are empowering children, showing them how to reduce their dependence on buying vegetables, and at the same time reducing their ecological footprint. They have also worked on improving scholars' understanding of the links between environmental sustainability and food and water security, and raising awareness about the importance of using resources wisely.
Innovative approaches have been used to engage with the scholars, including educational trips, puppet dialogues, drama and debates, sports, street painting, using old tyres for artworks, and developing child- and youth-friendly radio and newspaper publications. They have also initiated arbour projects, and water conservation and waste projects.
COTS are also the winners of the 2016 Community Partner of the Year Award.
The full citations for the winners can be found at www.ru.ac.za/environment/awards/2016awards
Source: Communications
Please help us to raise funds so that we can give all our students a chance to access online teaching and learning. Covid-19 has disrupted our students' education. Don't let the digital divide put their future at risk. Visit www.ru.ac.za/rucoronavirusgateway to donate