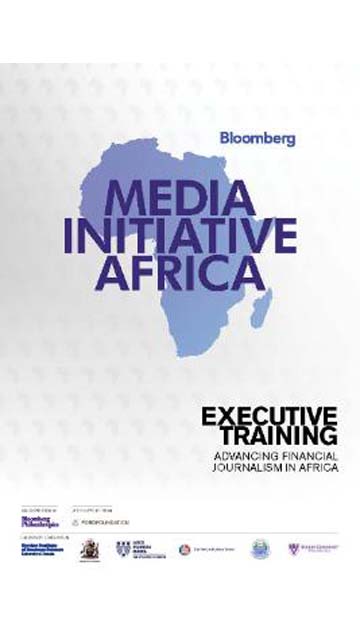 We cordially invite you to nominate suitable candidates to the Bloomberg Media Initiative Africa (BMIA) Executive Training Program Intake 4. This prestigious program has been developed for mid-career journalists, financial professionals with an interest in financial journalism; government professionals responsible for public policy, communications and finance portfolios; and development practitioners and civil society professionals with an interest in African development and financial and economic data.
Valued at $22,000, this fully funded program will provide delegates with the opportunity to network among peers and engage with subject matter experts and leading faculty from GIBS and Rhodes University School of Journalism. During the 6-month program, delegates will receive a copy of "The Bloomberg Way" and will be granted a free subscription to the Bloomberg Terminal Professional Service. The subscription will give delegates free access to world-class analytics, data, news and analysis.
The Executive Training Program is structured for part-time study, enabling working professionals to enhance their careers with the added advantage of being able to apply new knowledge and skills back into their work environments in real time. The 19-day program spans a period of six months and includes six compulsory study blocks.
The first study block takes place over four full lecture days. The remaining study blocks take place over three full lecture days. Intake 4 will begin in January 2017.
The BMIA Executive Training program will be held at GIBS in Johannesburg and the Intake 4 study block dates are as follows:
Study Block 1: 24 – 27 January, 2017 Study Block 2: 14 – 16 February, 2017
Study Block 3: 14 – 16 March, 2017 Study Block 4: 4 – 6 April, 2017
Study Block 5: 9 – 11 May, 2017 Study Block 6: 6 – 8 June, 2017
Candidates must be in possession of a recognized tertiary qualification (bachelor's degree or diploma) and experience in journalism, finance, public policy, communication or a related field are encouraged. Candidates must also have full permission from their managers to attend the program and complete all study blocks and assignments.
Closing date for applications is November 25, 2016 however; we encourage your nominees to apply soon as places for Intake 4 will be filled on a rolling basis.
Should you wish to nominate suitable candidate(s):
Please review the attached brochure for detailed information on the requirements and admission conditions for the program. Candidates will need to complete a short numeracy assessment and submit a short writing sample and a motivational essay.
Kindly email your nominees' names and contact details to our Country Program Manager: Daiveshni Naidoo on naidood@gibs.co.za and our Country Program Co-ordinator: Noxolo Khumalo on KhumaloN@gibs.co.za who will prioritise and facilitate their application process.
We look forward to welcoming your candidates to the program!
For more information visit the BMIA page.
Source: Rhodes JMS
Please help us to raise funds so that we can give all our students a chance to access online teaching and learning. Covid-19 has disrupted our students' education. Don't let the digital divide put their future at risk. Visit www.ru.ac.za/rucoronavirusgateway to donate