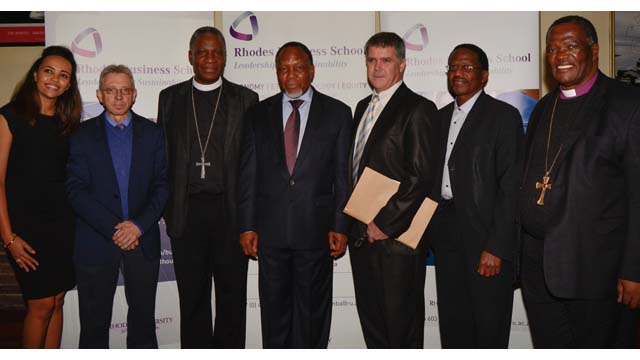 By Amy Pieterse
Rhodes Business School hosted former President Kgalema Motlanthe for the second Archbishop Thabo Makgoba Development Trust (ATMDT) annual lecture, on Monday 12th September 2016.
"Human beings are not helpless victims of forces impervious to their will. While oppression is as old as humanity itself, so is human agency," stated former President Kgalema Motlanthe in his lecture, which was focused on values-based leadership.
Motlanthe served as President between 2008 and 2009 after the resignation of Thabo Mbeki, and served as Deputy President from 2009 to 2014.
Motlanthe spoke about South Africa's history, from the intersection of cultures during colonialism, to the role of leadership. His lecture bore particular resonance as it was held on the 39th anniversary of Steve Biko's death.
In the lecture he argued that, "in recent years our society and our elected political leadership specifically, have been deviating from the values-based leadership envisaged in the country's constitution." He called for citizens to hold our elected leadership accountable to their actions, and for a reawakening of the values of uBuntu. "Through human agency we need to return to the affirmation of the superiority of the general over the particular, the community over the individual, adapting progressive conceptions such as uBuntu/Botho to modern realities," he said.
After his lecture Motlanthe engaged with the audience in a Q&A session. When asked if he shakes the hands of current leaders, and if he counts his fingers afterwards, Motlanthe responded: "Yes, I do meet with my colleagues and the leaders on an ongoing basis, and yes I do shake their hands, and indeed I find that all of my fingers are still intact. The real concern is not the risk of losing a limb, but the deviation from the promise of liberation. That is really what is essentially a major, major concern."
During the event the Trust awarded two Rhodes MBA students, Carol Cuthbert and Sakhile Mqomboti, a shared prize for the best essay on the subject of responsible leadership.
The Archbishop Thabo Makgoba Development Trust (ATMDT) seeks to address social economic challenges such as poverty, inequality and unemployment in Southern Africa, through the provision of educational opportunities, skills and entrepreneurial development, and the promotion of health awareness.
Picture From left to right:Ms Aminah Moore (MBA 2016 class Representative), Prof Dave Sewry Archbishop Thabo Makgoba, Former President Kgalema Motlanthe, Prof Owen Skae (Director: Rhodes Business School), Dr Sizwe Mabizela and Bishop Ebenezer Ntlali
Source: Communications
Please help us to raise funds so that we can give all our students a chance to access online teaching and learning. Covid-19 has disrupted our students' education. Don't let the digital divide put their future at risk. Visit www.ru.ac.za/rucoronavirusgateway to donate