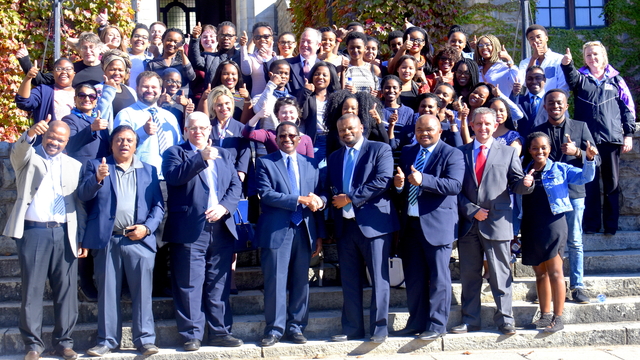 Kyran Blaauw
Rhodes University Vice-Chancellor, Dr Sizwe Mabizela, hosted the annual Arbor Day Tree Planting Ceremony to honour recently retired staff members who were in service of the University for 15 years and more, on 6 September 2016.
Eight of these retirees were honoured with the planting of a True Yellowwood tree to commemorate their hard work and dedication to Rhodes University. On the beautiful lawns of the Helen Joseph Annex, Ms Loshni Govender opened the event with a warm welcome.
Dr Mabizela read a personalised citation for each honoured guest. In his address he noted that these staff members have been true assets to Rhodes University and that without their dedication and commitment to this fine institution of learning, it would be the functional and successful institution it is today.
The retirees honoured and celebrated for their loyal service were:
Emeritus Professor Rob O'Donoghue : 15 years' loyal service to the Faculty of Education, during which he earned himself a highly regarded international reputation in environmental education.
Mr TS Ngandi : 19 years' committed service to the Grounds and Gardens Department. Colleagues describe him as a true gentleman with a great sense of humour, and who will be missed around the department.
Mrs Florence Burger : 19 years' dedicated service to the Rhodes University Catering Department. A warm and caring individual who would always go the extra mile in supporting her colleagues.
Mr Xolani Alcott Mbekela : 32 years' unwavering service to the Grounds and Gardens Department, a humble and caring individual who took pride performing his day to day responsibilities with excellence. He personally included in his responsibilities the recycling of glass bottles in the areas he oversaw.
Ms Gladys Memani : 30 years' committed service to the Central Cleaning Services Department. Gladys is described as a woman of principal who loved her job and saw beauty everywhere. She was awarded a merit award while working in the Maths Department.
Ms Sindiswa Ndemka : 15 years' loyal service to the Housekeeping Department. Sindiswa always went the extra mile, and her service was exemplary. She has positively impacted the lives of many students and colleagues and will be greatly missed.
Mr Mark Hazell : 26 years' of faithful service during which he actively deployed his keen sense and understanding of urban horticulture to change the face of campus. With his dedicated team, he turned pockets of wasteland into lush vegetated garden spaces. Under his guidance, thousands of trees were planted on campus; many kilometres of brick-paved footpaths were laid, and one of the largest automated irrigation systems in the Eastern Cape Province installed. Mark was instrumental in establishing a formidable team that took charge of the daily maintenance of the ever growing Rhodes University campus.
Mr Eric Sandi : 30 years' dedicated service in various departments at Rhodes University. Blessed with an entrepreneurial spirit with a passion for farming, Eric made the brave decision opting for early retirement to focus on his farming project. We trust that farm life will treat you well and that you will always be blessed with rain.
The honoured guests were supported by family, friends and current and former colleagues from Catering, Grounds and Gardens and Housekeeping. A plague was placed next to the True Yellowwood tree with each of the retirees' names inscribed, noting the divisions in which they worked.
Having worked in key departments of the university which include the cleaning services, grounds and gardens, food services to research centres of the university, all were honoured and thanked for their loyal commitment and dedication in making Rhodes University the fine institution it is today.
Source: Communications
Please help us to raise funds so that we can give all our students a chance to access online teaching and learning. Covid-19 has disrupted our students' education. Don't let the digital divide put their future at risk. Visit www.ru.ac.za/rucoronavirusgateway to donate