By Staff Writer

All universities are not the same, and this is clearly illustrated in the starting salaries of IT and Computer Science graduates.
MyBroadband's recent qualifications and salary survey shows that graduates from the top universities earn far more than their peers at lower-ranked institutions.
The survey was completed by 5,867 South Africans, of which the majority had a tertiary qualification.
The starting salaries of graduates over the last 10 years were used to calculate the average salaries, which were adjusted for inflation and salary increases.
The results show that IT and Computer Science graduates from the University of Cape Town, University of Stellenbosch, and Rhodes University enjoy the highest average starting salaries.
Graduates from the University of Limpopo and the Cape Peninsula University of Technology have the lowest average starting salaries.
No distinction was made between the degree levels – standard degrees, Honours, Master's, and Doctorate qualifications were grouped.
This means the average salaries are higher than what a graduate with only a Bachelor's degree can expect to earn.
The graphic below details the survey findings.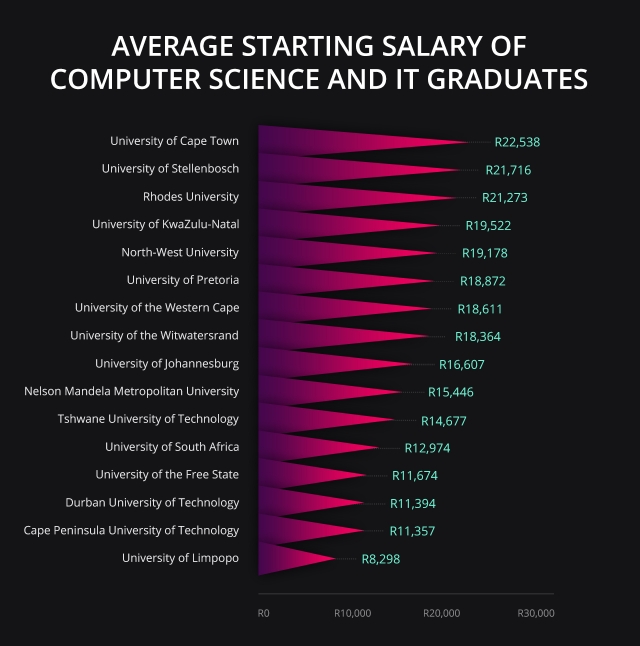 Source: http://mybroadband.co.za/news/business/169821-where-to-study-it-or-computer-science-for-the-best-starting-salary.html
Source: MyBroadband
Please help us to raise funds so that we can give all our students a chance to access online teaching and learning. Covid-19 has disrupted our students' education. Don't let the digital divide put their future at risk. Visit www.ru.ac.za/rucoronavirusgateway to donate