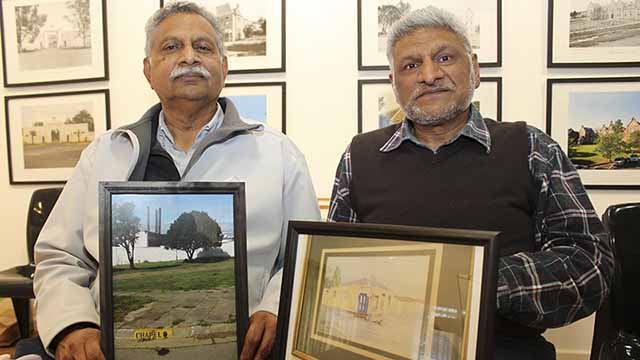 The Group Areas Act of 1950 ravaged communities across South Africa. Names like District 6 and Sophiatown stain popular history textbooks, but never are places like Grahamstown mentioned. Despite being left out of the textbooks, the Group Areas Act eventually reared its ugly head in Grahamstown in the early 1970s.
Having the largest effect on Grahamstown's Indian, Coloured and African residents, the Group Areas Act served to displace and destroy the very roots of these communities.
Tears slid down Harry Rama's face as he recalled his own story of the Group Areas Act, "all for nothing", he called it. Rama's childhood home on Queen Street was repossessed by the government and bulldozed for redevelopment purposes.
To this day, the plot where the home once stood remains empty except for an old avocado tree. "It was all for nothing!" Rama emphasised.
Rama shared his painful story at an event hosted by the Rhodes University's Department of History and third-year Public History students. The students embarked on a social research project to uncover the ways in which the Grahamstown community was affected by the Act. They interviewed local families and created websites displaying the information to the public.
The event took place at the Eastern Star Gallery, led by students and Dr Julie Wells, head of the Isikhumbuzo Applied History Unit. Community members were invited to come and share their stories, old photographs, and newspaper clippings.
The event laid a strong foundation for future community work and student research on the impact and history of the Group Areas Act in Grahamstown.
For more information about students' work, please contact Dr Julie Wells at j.wells@ru.ac.za.
Students involved in the project include Heather Dixon, Carla Franco, Kelsey Lemon, Simon Wormald, Kathryn Cleary, Megan Vetch, Simone Smith, Gerald Kihara, Nondumiso Msezane, Mike Strong, Lauren Jones, Catherine Stratford, David Barry, Tristan Britz, Pax Matia, Lesedi Setlhogo, Juan Deenik, Kibira Kadenge and Chizi Katama.
http://www.grocotts.co.za/2017/10/31/a-community-remembers-forced-removals/
Source: Grocott's Mail
Please help us to raise funds so that we can give all our students a chance to access online teaching and learning. Covid-19 has disrupted our students' education. Don't let the digital divide put their future at risk. Visit www.ru.ac.za/rucoronavirusgateway to donate