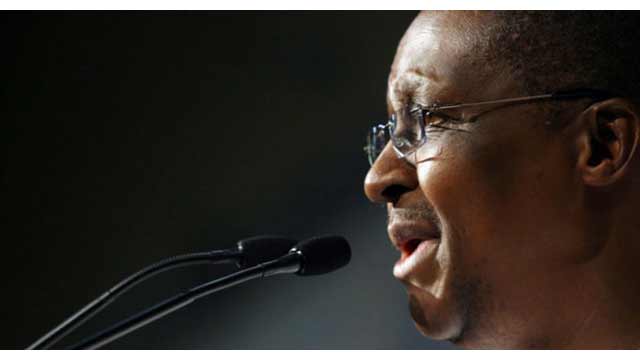 Pityana has been vocal in South Africa's fight for a true democracy to be enjoyed by all its citizens.
Outspoken champion for human rights Professor Barney Pityana was conferred an honorary doctorate by Rhodes University over the weekend.
Pityana is credited for coining the phrase, "black man you are own your own", owing to the realities of the South African society and leading to the establishment of the Black Consciousness Movement in the mid-1960s.
He also cofounded the South African Students' Organisation (Saso) of the Black Consciousness Movement with Steve Biko.
He was also a member of the African National Congress Youth League, but was later suspended for challenging the authority of Afrikaans teachers and the apartheid principles of Bantu education.
Pityana has been vocal in South Africa's fight for a true democracy to be enjoyed by all its citizens.
His work in human rights has been widely recognised, and in December 2002, he was awarded an Honourable Mention at the 2002 Unesco Prize for Human Rights Education.
In his citation for Pityana on Saturday, Professor Paul Maylam said it was highly appropriate that Rhodes University awarded Pityana an honorary doctorate because of his direct and indirect links with the institution and Grahamstown.
Maylam also hailed Pityana as a key figure in the establishment of the black consciousness student movement with Biko.
"The two complemented each other in their partnership at the head of the black consciousness movement – Biko the charismatic leader with immense powers of persuasion, Pityana his more philosophical counterpart able to bring incisive, well-considered analysis to the movement's programme," Maylam said.
"Biko the outgoing, ebullient, party-loving man, Pityana the more cautious, intellectual figure and effective administrator. The two very close to each other, once sharing a house in Umlazi, Durban."
Other honorary doctorate recipients were Jamaican-British dub poet, Linton Kwesi Johnson, activist Dr Sheila Sisulu, world-renowned South African-born fine artist Dr Penny Siopis, and Burundi-born philanthropist Dr Marguerite Barankitse.
Rhodes University said this year's honorary doctorates were men and women from across the continent who had made globally recognised contributions in culture, social cohesion, democracy and the betterment of humanity.
Meanwhile, the University of Johannesburg on Monday honoured liberation struggle poet and novelist, Mongane Wally Serote, for his indomitable contributions to poetry, literature and philosophy in South Africa. This was part of this year's first series of the 2017 autumn graduation ceremonies at UJ.
Source:http://citizen.co.za/news/news-national/1495752/barney-pityana-conferred-honorary-doctorate-rhodes-university/
Source: Citizen
Please help us to raise funds so that we can give all our students a chance to access online teaching and learning. Covid-19 has disrupted our students' education. Don't let the digital divide put their future at risk. Visit www.ru.ac.za/rucoronavirusgateway to donate