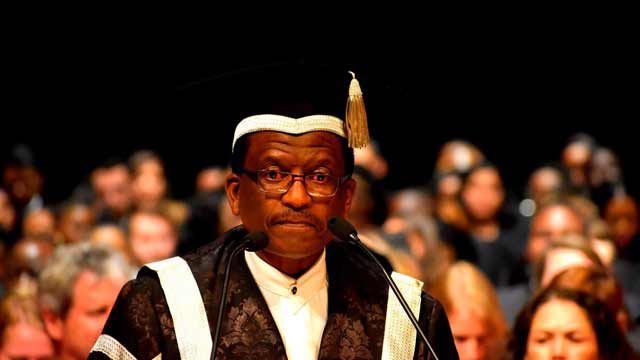 It was smooth sailing at Rhodes University in Grahamstown where over 2 400 graduated with degrees and diplomas in six ceremonies - the last one was held on Saturday.
This year's graduation included a number of highlights in the attendance lists and programme - Eastern Cape Premier, Phumulo Masualle; former first lady, Ms Zanele Mbeki; Archbishop emeritus, Njongonkulu Ndungane, and esteemed author, Professor Peter Mtuze, who were are part of a glittering line up of dignitaries.
Graduating students included almost 60 percent women, over 1 120 postgraduate qualifications including 82 PhD qualifications – up from 67 in 2016. Over 20 percent of the graduates were international students.
The University celebrated a new record of 26 PhD degrees for the Faculty of Humanities, up from the previous record of 19 achieved last year.
The Faculty of Science produced 34 PhD graduates, the Faculty of Commerce 5, the Faculty of Education 14, the Law Faculty 1, and the Faculty of Pharmacy 2.
"All faculties have done exceedingly well. We congratulate all our Deans, Heads of Department and the academic and support staff of our academic Departments for their efforts in keeping the enviable reputation for academic excellence alive," Vice Chancellor, Dr Sizwe Mabizela said.
Rhodes University is the smallest University in South Africa and enjoys the best undergraduate pass and graduation rates of any South African university. The University also has the best research outputs per academic staff member in the country.
"Our students are taught by academics who are actively engaged in advancing the frontiers of knowledge. We have the highest proportion of academic staff with doctoral degrees. These are the foundations for our purpose: knowledge production, critical engagement and societal responsibility," Mabizela said.
Image: Rhodes University Vice Chancellor, Dr Sizwe Mabizela.
Source: http://www.rnews.co.za/article/14168/over-2-400-capped-during-rhodes-universitys-2017-graduation-ceremonies

Source: Rnews
Please help us to raise funds so that we can give all our students a chance to access online teaching and learning. Covid-19 has disrupted our students' education. Don't let the digital divide put their future at risk. Visit www.ru.ac.za/rucoronavirusgateway to donate