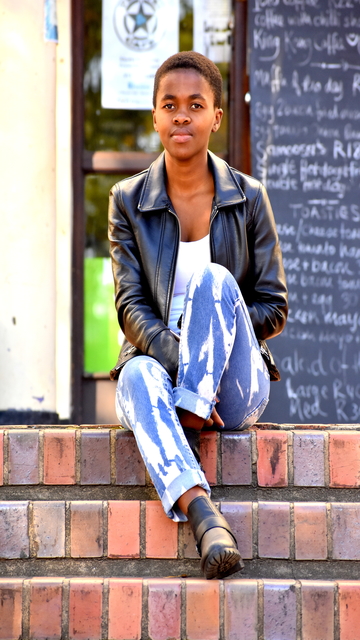 Ntombovuyo Ngaphu, 21, is a petite and soft-spoken African Languages post-graduate student with an almost tangible passion for language, particularly isiXhosa.
For Ngaphu, it was a natural progression to pursue her post-graduate studies in her home language, with a particular focus on its development and place in academia. IsiXhosa is the home language of nearly 80% of Eastern Cape residents.
Her honours paper was on how translation can be used to diversify academic literature for the benefit of African language speakers in academia and its impact on their performance. She wrote her thesis in isiXhosa.
"We have proven that you can do research, write an academic paper in isiXhosa about isiXhosa and excel, I got a distinction for my honours degree," says the Journalism graduate who majored in isiXhosa.
Born in Gxulu, a farmstead in Mthatha in the Eastern Cape, Ngaphu recalls the non-progressive attitudes she discovered when she enrolled at Rhodes University in 2013.
"If you study at Rhodes, people expect you to speak a high level of English, and if you come back with a better understanding of isiXhosa, they feel that you have wasted the opportunity," she says. She believes that this misconception is commonly shared amongst black people including students, lecturers and society in general.
It is this attitude that encouraged her to pursue her master's degree on how isiXhosa can be used a medium of teaching and learning. Her original research centred on translation and its impact, and her thesis aims to investigate methods of translation that will have the desired impact on student performance.
"The idea is to translate main academic set books from English to isiXhosa. The thesis focuses on isiXhosa at Rhodes University, but the strategy can be adapted to other vernacular languages all over the country," she explains.
For her masters, Ngaphu is preparing for the teaching stage through her use of a method called Translation Quality Assessment, created by author and scholar Juliane House, which assesses the quality and accuracy of translated works. Her focus in on an existing course within her department that is being taught in isiXhosa and in English.
"I am analysing all the translated learning material to gauge its accuracy, see how it affects the manner in which students understand the course, as well as their attitudes towards the language," explains Ngaphu.
Ngaphu finds in ironic that language representation at the School of African Language Studies is almost none existent, with most course materials written in English and translated in class. Her work seeks to ensure that the tradition of oral translation is formalised practice in the academic space.
"We need to introduce languages slowly and casually. It is daunting to write anything in isiXhosa even as isiXhosa speakers, but we are in a space of higher education, we must learn, challenge ourselves and eventually re-introduce ourselves to the system," she encourages.
Because Ngaphu sees language as an intellectual resource, she plans to do her PhD on the same topic. She also plans to spend a few more years in the School of Languages to ensure that work done does not disappear into obscurity.
"I love this department; I want to study as much of African languages as I can in order to be part of the solutions that we are workshopping now ahead of the Transformation Summit," she enthused.
Ngaphu was able to use IsiXhosa in her thesis following the University's review of its language policy in 2013, which came about following a campus-wide survey and recommendations from the language committee. The current policy commits to the development and promotion of respect for all languages with the equitable use of the official provincial languages at Rhodes University.
She is excited about the opportunity to share her findings at the Language Group Discussions ahead of the 2017 Transformation Summit to be held on 28 July 2017. This discussion group is one of the twelve Transformation themes that will allow members of the University an opportunity to set the agenda for discussions with the University community at the Summit.
Source: Communications
Please help us to raise funds so that we can give all our students a chance to access online teaching and learning. Covid-19 has disrupted our students' education. Don't let the digital divide put their future at risk. Visit www.ru.ac.za/rucoronavirusgateway to donate