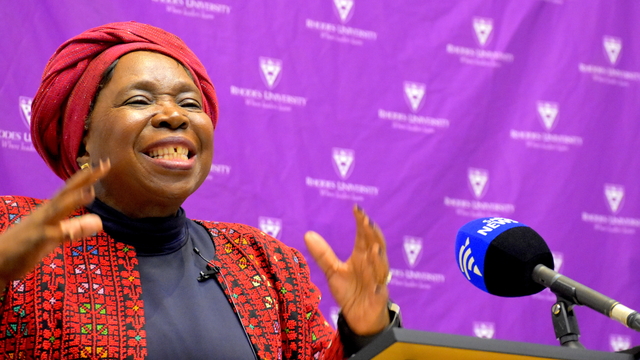 By Sam Van Heerden
Former African Union (AU) chairperson, Dr Nkosazana Dlamini-Zuma delivered a talk on the African Union's Agenda 2063 at Rhodes University, urging that instead of being dependent on outside forces, Africa needs to rely on its own resources and citizens to build the future wanted and needed.
Agenda 2063 is the second of four lectures for the annual Teach-In series on The Post American World. The series was hosted by Rhodes University's Department of Political and International Studies.
"The agenda is about how Africa is positioning itself in a fast-changing, post-American world," said Dlamini-Zuma. The AU, which celebrates its 50th anniversary this year, has set out a list of aspirations for Africa to be completed in the next 43 years.
According to Dlamini-Zuma in a world where Africa is often treated and painted as a helpless victim, we often forget Africa's own strengths and capabilities. Most of the aspirations focus on highlighting these. Dlamini-Zuma says that the AU wants to build a prosperous, integrated, and peaceful Africa which plays a dynamic role in the global arena.
"We must take the destiny of Africa into our own hands. It should not come from somewhere else. We must determine what we want, and whoever wants to work with us, must work within our policy, [not impose theirs]," explains Dlamini-Zuma.
Africa's land covers 30 million square kilometres and its resources are plenty, the most precious being its people. It has more than a billion citizens, and, unlike many developed countries which have aging populations, most of the populations in Africa is young and female.
"Africa needs a skills revolution," said Dlamini-Zuma, who pointed out that we need to invest in the youth and in education, particularly in Science, Technology, Maths, and Finance.
In constructing the Agenda 2063, the AU conducted consultations with people across the continent. "We asked them what is the Africa that you would like to see and build? And what would be your contribution [to this vision]?"
The 2063 Agenda also seeks to ensure the effective use of land.
"Africa has rivers, mountains, fauna, and flora, and hosts 60 % of the world's arable land. This must be utilised for agriculture so we can feed ourselves. At the moment, there is a scandal, 87 % of our processed food comes from outside the continent. And we spend billions of dollars buying food. Why can't we do it ourselves?" she asks.
"We cannot be beggars in a continent that can produce everything it buys from others," said Dlamini-Zuma, who elucidates that the majority of African countries are still selling raw minerals and materials.
Instead, it is necessary to manufacture and sell finished goods. The focus on raw materials not only means that Africa loses money, but it also loses jobs. "If we want young people to be employed and be employers, we need to industrialise."
Africa's large maritime region is an important economic space. "Ninety-percent of our goods are carried through the maritime highway. But who owns the ships? It is not us."
Africa also needs to change its trading style. "We need to change trading partners. When most other countries in the world are asked who their main trading partners are, they point to those in their region. We need more inter-African trading and free trade. This requires improvements in energy, transport, and ICT infrastructure."
As the world changes with the decline of the United States, and a unipolar world gives way to a multipolar world, Dlamini-Zuma concludes with this: "Africa relates to China, it relates to the EU, it relates to everyone. We are not a continent that has stuck to one side rather than another. But we are saying now that they must relate to us, in our own terms."
Source: Communications
Please help us to raise funds so that we can give all our students a chance to access online teaching and learning. Covid-19 has disrupted our students' education. Don't let the digital divide put their future at risk. Visit www.ru.ac.za/rucoronavirusgateway to donate