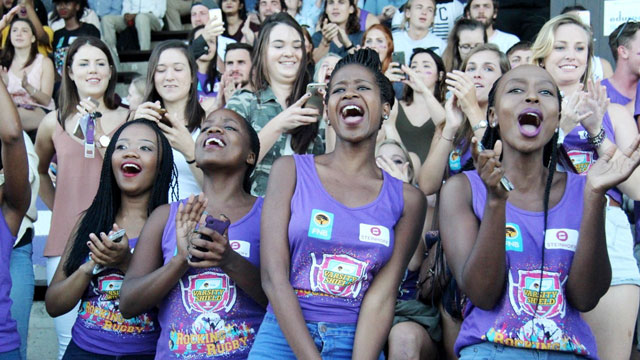 By Anima McBrown
Rhodes University's rugby team had it all to prove on Monday, 27 February at their penultimate home game in the 2017 Varsity Shield tournament. A fourth round clash saw them lose to provincial rivals University of Fort Hare (UFH) at the Rhodes Great Field.
Things got off to a nervous start, with UFH scoring their first try through Sibusiso Sityebi just seven minutes into the game. A missed conversion left the score line at 0 – 5 to UFH, who also missed a penalty eleven minutes later.
A strong, vibrant visiting crowd supported UFH through an impressive start to their first half. Things took a bit of a controversial turn when a few of the Rhodes and Fort Hare players got into a scuffle. The commotion resulted in three yellow cards – two for Fort Hare and one for Rhodes.
The game shaped up soon after and returned to a healthy competitive spirit. Both teams displayed brilliant interceptions – leaving supporters on either side completely tantalised. A third yellow card for UFH closed off the first half.
Devon Barnard opened up Rhodes' scoring two minutes into the second half, which was followed by a successful conversion taking RU three points into the lead. Shortly after that UFH won a penalty that brought the game to a tense 8 – 7 to Rhodes.
RU countered UFH's effort by winning a penalty of their own, and eased their way into a seemingly comfortable 10 – 7 lead. But that was short lived: UFH retaliated with a try and conversion, raising the stakes to their five point gap. With the crowd growing restless and pressure mounting for our boys to deliver their first home win, desperation and panic started to seep through as RU lost momentum.
A strategic time out, with seventeen minutes left of the second half, saw both teams regroup and refocus. This also presented a good opportunity for some fun, light and laughter: all courtesy of an epic dance battle between the RU and UFH mascots. The crowd support was won back, the purple gees maintained, but an increasingly anxious last quarter progressed.
What followed was simply heartbreaking: a penalty, two tries and a conversion sealed the deal for UFH ensuring a 30 – 10 victory for our competitors. As disappointed home fans made an early departure three minutes from final time, the RU brave-hearts on the field tried to fight until the very end. Despite their efforts it was not be, as they lost another vital match in the competition.
Speaking to coach Qondakele Sompondo after the match, he lauded the supporters for making it out in numbers. "I think the support here was just amazing and these people deserve to be rewarded for that", he commented. He acknowledges that the challenges facing the team have to do with the pressure and intensity of performing at Varsity Shield level. Yet he pleads with the RU family to be patient with them, as he believes that a big win is on its way.
Captain Jono Braans returned from injury and a three week sit-out to lead the team. For him, making "bad mistakes at crucial times" let the team down. Nevertheless he still has every hope that they can turn that around in the next match.
RU will now enjoy a week long break from competitive play. They will be preparing to face Walter Sisulu University (WSU) at 6:30PM on Monday 13 March 2017. The last RU home game has never been a better time for all to come out and 'back our boytjies'.
Main stats
FNB Rhodes: 10
Tries: Devon Barnard
Cons: Michael Steel
Pens: Ryan Horne
FNB UFH: 30
Tries: Sibusiso Sityebi, Bulelani Mdodana, Zayne Farmers, Wilfred Bowers
Cons: Jeandre Christian (2)
Pens: Jeandre Christian (2)
Source: Communications
Please help us to raise funds so that we can give all our students a chance to access online teaching and learning. Covid-19 has disrupted our students' education. Don't let the digital divide put their future at risk. Visit www.ru.ac.za/rucoronavirusgateway to donate