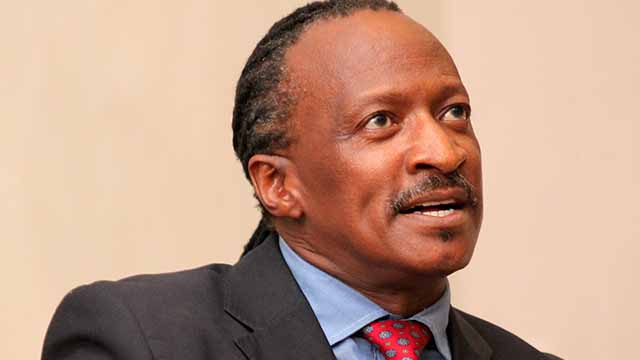 By Lelo Macheke
Jabu Stone is the epitome of dreams realised through a simple, clear and honourable vision. His talk at the Rhodes Business School's Business Forum on Tuesday night (12 September 2017) inspired the youth, whom he considers born entrepreneurs, to pursue a business model grounded on values and hard work.
Stone is a qualified engineer turned natural haircare business mogul. He founded the brand Jabu Stone Natural Hair over two decades ago and later wrote the book, Turning Passion into Profit.
The brand was a response to the prominence of Western culture in Africa, with many Africans choosing a more Eurocentric approach to their looks, losing their natural identity to other cultures. Jabu Stone Natural Hair promotes natural hair care and heritage to Africans worldwide.
"Some people are born entrepreneurs, but it is also possible to develop people into entrepreneurs. I have encountered many challenges; competition, industrial espionage, funding and building confidence within my target market and distributors. The secret to overcoming these challenges is to create close and trustworthy relationships with key figures," Stone said.
He believes that curriculum transformation is a necessary tool to ensure a thriving entrepreneurial culture especially among social groups that are tentative and new to the culture. "Tertiary institutions must also strengthen their syllabus to adequately accommodate the ever-changing knowledge and approaches of the industry," he concluded.
Stone emphasised the importance of training entrepreneurs to know the ethical and legal regulations of their respective industries. He made an example of graduates that leave training colleges to get into jobs within the haircare industry that pay a minimum salary of R3 000 per month. Stone identified this as an industrial problem and not an educational one.
"We must build entrepreneurs to create a functioning and competent industrial culture where people are trained, employed and remunerated accordingly. That will contribute to industrial reform, especially in the semi-formal sectors," he said.
Stone's talk was followed by an intensive consultative session with students and academics. The general concern among young people was making the right moves as budding entrepreneurs, regardless of the harsh realities facing the weak South African economy.
"There is never a right time to make entrepreneurial moves, other than the time one makes it. Entrepreneurship is scary because there are no guarantees. But, it is the passion that will get you through."
Jabu Stone Natural Hair has created many opportunities for up-and-coming entrepreneurs to assume responsibility for their own salons in which the African style is offered. The brand has an international footprint in salons and in mass product distribution.
Source: Communications
Please help us to raise funds so that we can give all our students a chance to access online teaching and learning. Covid-19 has disrupted our students' education. Don't let the digital divide put their future at risk. Visit www.ru.ac.za/rucoronavirusgateway to donate