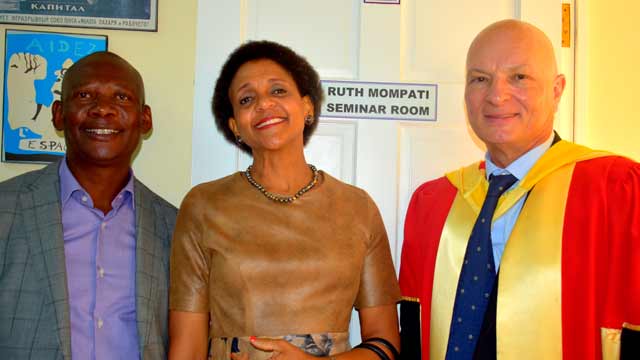 By Khuthala Nandipha
The Department of Political and International Studies last week honoured struggle icon Ms Ruth Segomotsi Mompati during their graduation by naming a Seminar room after her. Mompati died at the age of 89 in 2015 after a short illness.
Sindiso Ngaba, Ruth's niece, Elvis Tladinyane, Chairman of the Ruth Segomotsi Mompati Foundation, Head of Department Professor Paul-Henri Bischoff as well as politics graduates and their families, attended this intimate ceremony.
"My aunt had a great love for education and Grahamstown. As a fourteen-year-old girl 'Ru' as I so affectionately called her, was thrown into a tough situation when their father passed away and in order to keep their eldest sister at school, she had to go to work to assist her mother to raise money. It was agreed that her turn would come when the elder sister had completed her studies. After honouring this arrangement, she put her foot down and asked that she get the chance to go back to school," recalls Ngaba.
She added that the liberation of black people was a thorn on Ruth's side until her last moments. "Before she passed on, she told Archbishop Makgoba and myself that she was not yet done, that she hadn't yet completed the liberation of her people, because people have not yet liberated themselves," she said.
As a young lady in the early 1950s, Ruth worked for the Nelson Mandela and Oliver Tambo Law Firm in Johannesburg. Born in Vryburg in the North West Province, in 1954 she joined the African National Congress (ANC) and was elected to the National Executive Committee of the Women's League.
She is one of the founding members of the Federation of South African Women (FEDSAW) and was one of the leaders of the Women's March on the 9th August 1956. She went into exile in 1962 where she underwent military training and held office as secretary and head of the women's section of the ANC in Tanzania.
In 1992, a day after the anniversary of the historic Women's March to Pretoria in 1956, she addressed the United Nations Special Committee against Apartheid in New York on the subject of women. The day was then declared an International Day of Solidarity with Women in South Africa. She marched with Professor Angela Davis in London at the Women's unite for People power.
In 1996 to 2000 on her return from exile, she became the mayor of Vryburg (Naledi) in the North-West Province.
According to Professor Paul-Henri Bischoff, Head of the Department of Politics, the seminar room that has been named after Mama Ruth was built four years ago. It is central to the academic life of the department. This is where postgraduates engage in seminars, where visitors give presentations and where every Friday during term time seminar presentations open to the public are made.
"It is a friendly and open space where we hope political thoughts, ideas and actions which benefit the world are born. We decided to re-name it in honour of an outstanding individual of this country," said Bischoff.
The room is filled with framed posters and pictures that reflect the politics and history of our continent and the world.
"On behalf of our family, thank you so much for continuing to breathe life into her legacy and belief in learning. She dented the shape of the world, so her name on the department of Political and international studies is bound to inspire others to do the same," concluded Ngaba.
From left: Elvis Tladinyane, Chairman of the Ruth Segomotsi Mompati Foundation, Sindiso Ngaba, Ruth's niece, and Head of Department Professor Paul-Henri Bischoff.
Source: Communications
Please help us to raise funds so that we can give all our students a chance to access online teaching and learning. Covid-19 has disrupted our students' education. Don't let the digital divide put their future at risk. Visit www.ru.ac.za/rucoronavirusgateway to donate