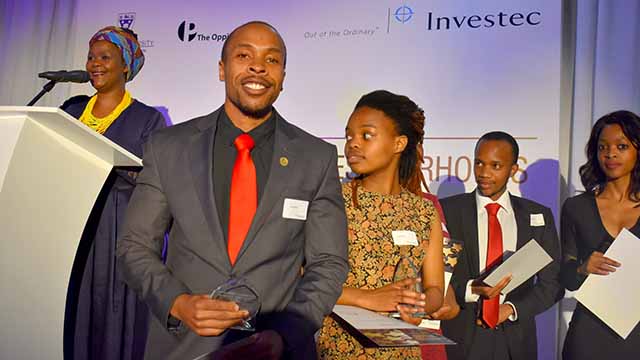 Rhodes-Investec honour 100 student leaders
The Top 100 Rhodes University students were honoured at the annual Rhodes-Investec Top 100 awards ceremony last night in recognition and endorsement of their achievements across a range of categories.
These students are front-runners in areas such as student leadership, general excellence, arts and culture, media and society, sports, community engagement, academic excellence, commerce and finance.
Dr Chrissy Boughey, Rhodes Deputy Vice-Chancellor congratulated the students for being the epitome of excellence that the university seeks to achieve and instil in their students. "Years spent at university are not just about attending lectures and submitting assignments, that's too simplistic. It is about becoming a different person, who knows more, a person who looks at the world with different eyes."
She added that, "The experience is much wider and there are opportunities to learn how to be professional, culturally diverse and be a leader in teams. The students being awarded tonight are young people that have grasped all the opportunities available at this university, thus being the best".
The keynote speaker for the night, Setlogane Manchidi, Head of Corporate Social Investment for Investec, said: "These are leadership awards, and how appropriate is it that we are handing them out at Rhodes University, where leaders learn. This partnership is based on the notion that the grass is never greener on the other side; it is rather greener where you water it. Students and academics that understand that will inevitably shape a brighter future for this country, that is why we believe in them and support them."
The Top 100 awards emanate from nominations from students and university staff. They are judged qualitatively based on a solid academic record, and students must be on track to complete their degree in the standard time, with no DP refusals.
The panel of judges includes thirteen Rhodes University staff members; Professor Owen Skae, Benita Bobo, Professor Gary Gordon, Sarah Green, Veronica Israel, Lynette Louw, Nomangwane Mrwetyana, Peta Myers, Siya Ngopeni, Eric Ofei, Rat Western, Gillian Rennie and Andrew Tlou, Social Investment consultant for Investec.
Editor of the media partner, Oppidan Press, Ashleigh Dean, hosted the gala evening.
The Winners are:
Arts, Culture, Media and Society
Mike da Silva
Ashleigh Dean
Thembela Madliki
Kimara Singh
Community Engagement
Nokwanda Cele
Lethabo Ditshego
Zuko Ntlakaza
Sesonasipho Yedwa
Commerce and Finance
Dale Hewitt
Christopher Kale
Mpiliseng Sebata
Sports
Candice Rafael
General Excellence
Jonathan Braans
Tyran Brown
Rutendo Chirindo
Heather Dixon
Thokozani Dladla
Chido Gezimati
Sean Herd-Hoare
Odifentse Lehasa
Mpho Mafa
Thato Marope
Zinhle Mavuso
Zola Mbatha
Kayla McEwan
Javan Mnjama
Namhla Mthalane
Francis Nuwagaba
Kimberly Nyajeka
Mpiliseng Sebata
Anelisiwe Tsotsi
Lindiwe Tsope
Samkelo Mngadi
Lemogang Modisakeng
Nombulelo Myeni
Nobuhle Ndebele
Zilindile Ngcongo
Student Leadership
Shannon Arnold
Dingaan Booi
Abigail Butcher
Lucky Dlamini
Stephen Dorbor Jr
Christopher Kale
Rolihlahla Mabaso
Vanessa Macholowe
Samkelo Malgas
Candice Rafael
Khethobole Sekgota
Sheena Talma
Callie Thomson
Kudzanai Tsvetu
Academic Excellence

Commerce
Sheldon Bruin
Hannah Maclean
Pule Mokwena
Siphiwokuhle Mthoni
Humanities
Adam Butler
Cayleigh Channon
Kyra-Aynsli Davies
Ivy Kinyanjui
Claire Mccann
Pharmacy
Lili Flax
Khatija Gani
Vivian Naidoo
Gabriella Schnabel
Science
Elisa Kirgin
Lorraine Matandirotya
Ndhuvazi Mkansi
Andrew Nel
Nangue Tasse
Law
Robert Harris
Ibrahim Patel
Leo Vaccaro
Aiden Whitaker
Source: Communications
Please help us to raise funds so that we can give all our students a chance to access online teaching and learning. Covid-19 has disrupted our students' education. Don't let the digital divide put their future at risk. Visit www.ru.ac.za/rucoronavirusgateway to donate