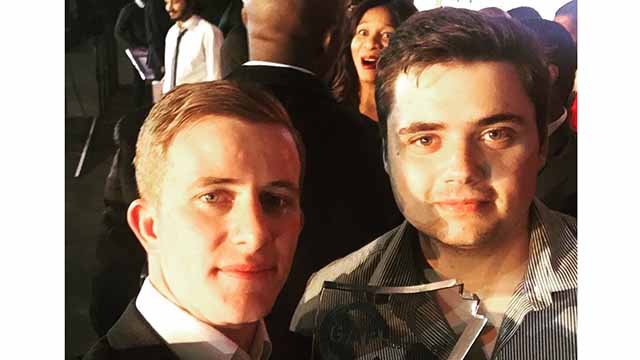 Once again, the dynamic duo Masters students Charles Faul and Lucas Lotter's Fieldlab, a mobile lab-in-a-box prototype, won a half-a-million rand first prize in the Innovation Hub's GAP-Biosciences national awards on Thursday, 16 November 2017.
The innovators from the Biotechnology Innovation Centre under the supervision of Professor Janice Limson were also awarded the Best Prototype at the Department of Science and Technology's National Innovation Bridge in 2017. This was the first-ever public launch of technologies developed by the Rhodes University Biotechnology Innovation Centre. They beat 300 innovations and bagged a R50 000 in prize money. The prototype received a special mention by Minister Naledi Pandor during her Innovation Bridge address.
The Innovation Hub's GAP-Biosciences national awards honour top innovators and entrepreneurs for their outstanding work in the smart industry, green economy, biosciences and medical sectors.
Fieldlab is a solar-powered mobile lab-in-a-box, the brainchild of Faul and Lotter who are both completing their Masters Degrees in Biotechnology. The mobile lab is set to break new ground in field-testing for viruses and bacteria, particularly in remote areas. The prototype gives scientists access to tools that can identify a viral outbreak on the spot.
"We started working on the prototype this year; it is amazing how much attention it has already received. We are very excited that so many people share our vision for better medical diagnostics and scientific equipment designed for Africa," said Faul.
His partner in innovation, Lotter admitted that the competition was tough as there was fantastic technologic innovations, "but our passion and focus on the fundamentals was essential to our success".
Speaking on the award-winning prototype, Professor Janice Limson, DST/NRF SARChI in Biotechnology Innovation and Engagement at Rhodes University, said, "This technology showcase has been the culmination of a lot of hard work and ingenuity from our students and staff. It has put Rhodes Biotechnology firmly on the entrepreneurship map".
"Our next step is to find space on the Rhodes University campus where we can translate these and other prototypes into products."
The duo has raised R1 million so far towards production and aims to have the product available commercially by 2018.
Field Lab, a lab in a box – medical diagnostics kit
FieldLab is a low-cost lab-in-a-box that provides commonly used molecular biology technologies for use in the field. It combines a microscope, centrifuge, PCR thermocycler and a visualisation system together with solar power to operate this machinery. The system allows medical professionals working in the field to access the equipment found in fully equipped medical diagnostic laboratories. Its high-powered light microscope can visually diagnose malaria. The rugged system optimises workflow and allows for rough transportation without damaging the equipment. This would make it ideal for disaster areas, remote areas throughout Africa and even conflict zones.
Source: Communications
Please help us to raise funds so that we can give all our students a chance to access online teaching and learning. Covid-19 has disrupted our students' education. Don't let the digital divide put their future at risk. Visit www.ru.ac.za/rucoronavirusgateway to donate