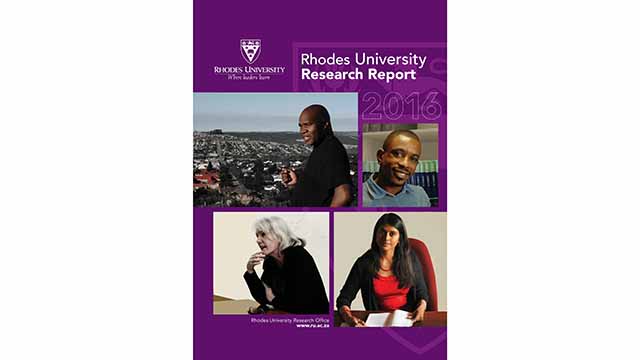 Rhodes University's 2016 Research Report captures impressive research outputs and activities by every department. There is a yearlong time lag with official research reports as data on publications must first be collated and submitted to the Department of Higher Education & Training.
2016 was a good year for Rhodes University with a record-breaking graduation, papers, journals and books published and acknowledged by international audiences. Some of these publications attract subsidisation from the Department of Higher Education and Training (DHET) and are an important source of income for the university.
The report profiles the Top 30 researchers, records broken by PhD graduates from 2016, the Vice-Chancellor's Senior Research awards, explores Human Geography and the retrieving and re-publishing of isiXhosa writings, among other research related profiles.
Deputy Vice-Chancellor: Research and Development, Dr Peter Clayton talks at length about the intention for Rhodes to become a postgraduate university, and thus enhancing the contribution to knowledge production through research and scholarship.
"Rhodes is well positioned for such a trajectory and 2016 exhibited the fruits of this strategy in our numbers of Postgraduate degrees awarded. We look to further strengthen our capacity to serve society in this way by striving to provide our academics with effective research support," said Dr Clayton.
Dr Sizwe Mabizela looks back at the momentous 2017 graduation, which produced leaders in diverse areas of study and research. He also confronts the critical topic of leadership and the spiritually amuck nature of those that are at the forefront of leadership and governance. He calls for a more compassionate, ethical and courageous leadership in all fronts of our society.
To access the full report, please click on the link
Source: Communications
Please help us to raise funds so that we can give all our students a chance to access online teaching and learning. Covid-19 has disrupted our students' education. Don't let the digital divide put their future at risk. Visit www.ru.ac.za/rucoronavirusgateway to donate