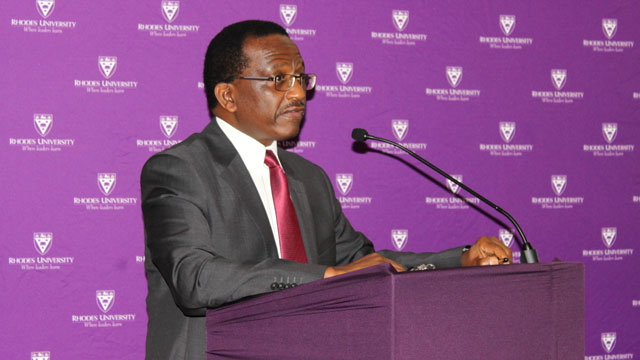 Rhodes University hosted a media briefing in Port Elizabeth today (Tuesday, 14 February) where members of the media were briefed about some of the pertinent issues that face the University as they prepare for the start of the academic year, which starts next week.
"The recent #feesmustfall protests have brought to the fore the unequal distribution of resources in our society. This is a recipe for instability. We cannot continue to be indifferent to the plight of the poor in our society," said Dr Sizwe Mabizela, Vice-Chancellor of Rhodes University.
Under the theme, the doors of learning should stay open for all, Dr Mabizela said: "As Rhodes University, our position is clear in so far as education is concerned; in the short to medium term, we believe that free education should be provided to poor and academically deserving students. We must devise financially sustainable mechanisms to fund the missing middle. These are the children of civil servants; they are so heavily indebted that they cannot even access loans to finance their children's education. It is critical that the government find ways to assist these children to access education. Government should prioritise funding for the higher education system," said Mabizela.
On the issue of violent student protests, Mabizela strongly believes that peaceful protesting is everyone's constitutional right. However, he says: "violence will destroy our universities. We cannot and should not normalise violence and destruction. If we continue using violence as a legitimate form of engagement, our working class citizens will suffer the most. Those who can afford education will go overseas and into the private sector to access higher education and the poor will be left with nothing," he said.
Mabizela said that historical debt at Rhodes University currently stands at about R48 million. He emphasised that students with historical debt need to engage the University to enter into payment arrangements so that they may register to continue their studies in 2017. He also stressed that no academically deserving students will be turned away simply because they cannot afford to pay fees. The University has various funding programmes through which students can access student financial aid.
"Rhodes University is grateful to our corporate funders whose contribution will make a difference in the lives of our students. We are deeply thankful to the corporates for assisting us deal with the issue of the missing middle. Every young person in this country must be given an opportunity to access higher education and the corporate support goes a long way towards achieving this goal," he said.
In 2016, NFSAS (National Student Financial Aid Scheme) was centralised to their headquarters in Cape Town and this has had a large impact on the students. By virtue of its location, the vast majority of students at the University require accommodation – which is linked to NFSAS funding. For students to be allocated accommodation on campus, they must have paid a registration fee or have NFSAS approval for funding. These delays affect these processes and might leave some of the students without accommodation on campus.
Dr Mabizela also decried the "pernicious scourge of gender-based violence at Rhodes". He said that a task team had be appointed to look at this issue and this team has made recommendations about how to eradicate it and that Rhodes is currently working at implementing some of these recommendations.
"We are approaching the start of the academic year with a great deal of optimism. We are not on opposing ends with our protesting students. We need to work together to find ways of fixing the situation while we continue with teaching and learning," concluded Mabizela.
Caption: Rhodes University Vice - Chancellor, Dr Sizwe Mabbizela addressing members of Eastern Cape media
Source: Communications
Please help us to raise funds so that we can give all our students a chance to access online teaching and learning. Covid-19 has disrupted our students' education. Don't let the digital divide put their future at risk. Visit www.ru.ac.za/rucoronavirusgateway to donate