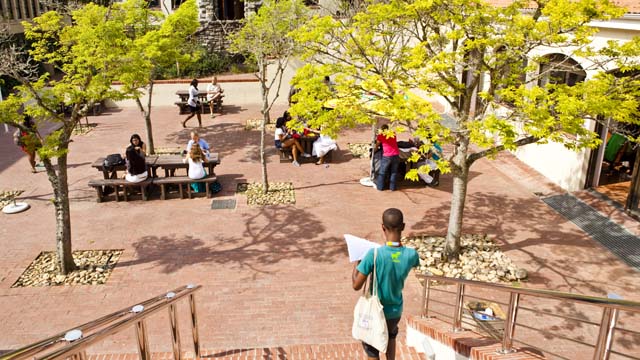 By virtue of its small town location, most students attending Rhodes University require accommodation. Of the over 8 277 students that will register at Rhodes in 2017, 3 594 will have a place in the University residence as this is the capacity of the university residence system. This is because as the University student numbers have grown over the years, the number of available beds is not growing at the same rate. This is largely because government funding is simply not enough to keep up with the demand for good quality education and accommodation.
In order to ensure that students do not suffer undue stress as a result of lack of accommodation and related issues, the affected students have been grouped into various categories as follows:
1. Those who were approved and funded by NSFAS in 2016
These students were funded by NSFAS in 2016. Should they have confirmed their intention to return to residence by the prescribed date and met all the criteria set out by NSFAS to qualify for funding, they have been allocated accommodation and can move into their allocated accommodation on registration.
In the event that these students did not apply for residence, they will have access to their accommodation allowance so that they can move into their preferred digs off campus.
2. Students who had applied and qualified for NSFAS but were not funded by NSFAS but by the University
These are students who had applied for funding from NSFAS, were approved for funding but did not get NSFAS funds but were funded by the University because NSFAS had run out of funds. These people might find that they are not on the NSFAS database as previously funded students. They are however, cleared for registration and accommodation.
3. NSFAS funded oppidans
NSFAS funded oppidans are those students who are funded by NSFAS but do not live in residence. These students would also not have received confirmation for funding from NSFAS due to the backlog on their system. As soon as they have registered, they will receive their accommodation allowances within 12 hours of processing and will be able to move into their digs soon thereafter.
4. First year NSFAS funded students
Most of the first year students arrived on the weekend of February 11 -12 2017 for registration. On registration, it was found that some had not yet received confirmation for funding from NSFAS. These students were accommodated in residences on a temporary basis with most having already been absorbed into the residences where vacancies were available. Those students that do not have a place at residences, the University is working at resolving this situation and trying to ensure that they receive accommodation allowances so they can move into digs. Students who require assistance with accommodation can contact Desiree Wicks (Student Bureau) at d.wicks@ru.ac.za.
5. Returning students
Returning students are expected to be back on campus by the end of this week (16 February). As soon as they have registered and provided that they have confirmed their places at res, they will move into their allocated accommodation. In the event that that they have arranged for accommodation in digs, their accommodation allowances will be made available within 12 hours after registration and they can move into their respective accommodation places.
Source: Communications
Please help us to raise funds so that we can give all our students a chance to access online teaching and learning. Covid-19 has disrupted our students' education. Don't let the digital divide put their future at risk. Visit www.ru.ac.za/rucoronavirusgateway to donate