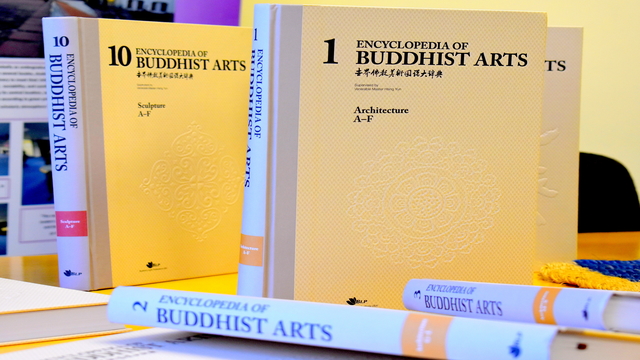 A limited edition encyclopaedia of Buddhist Art, comprising 20 volumes, was donated to the Rhodes University library this week by the Fo Guang Shan, an international Chinese Buddhist monastic order and new religious movement.
Rhodes is of one of 20 universities together with the national library to have received what is considered the most comprehensive literature of Buddhist art. The collection has over 10 000 selected entries, including 14 000 images.
Entry topics include architecture, caves and rock carvings, sculpture, painting, calligraphy, seal engraving, artifacts and people. Work on the volumes started in 2001 involving over a thousand experts from scholars to editors.
The Fo Guang Shan is one of the largest charity organisations in Taiwan. Founded in 1967 by Hsing Yun, the order promotes Humanistic Buddhism and is known for its efforts in the modernisation of Chinese Buddhism.
The Venerable Hui-Fang, the Abbot of the Fo Guang Shan and Du Mann Ying, Buddha's Light International Association in Johannesburg personally delivered the collection to Deputy Vice Chancellor Dr Peter Clayton and Ujala Satgoor, Director Library Services.
"We encourage the Rhodes community to make use of this generous donation of valuable and age-old information, particularly researchers and fine art students," said Dr Clayton
Source: Communications
Please help us to raise funds so that we can give all our students a chance to access online teaching and learning. Covid-19 has disrupted our students' education. Don't let the digital divide put their future at risk. Visit www.ru.ac.za/rucoronavirusgateway to donate