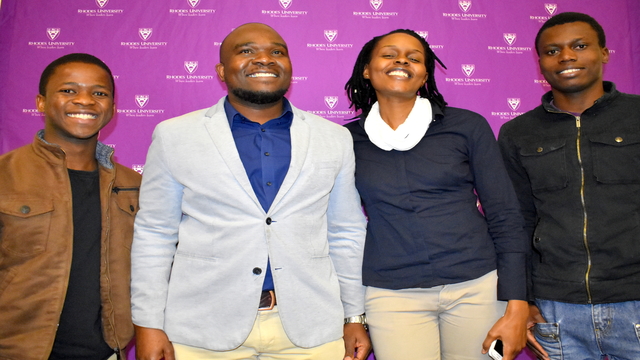 Rhodes University will host the 2017 Vice Chancellor's Senior Distinguished Teaching and Research Award lectures on Tuesday, 22 and Thursday, 24 August 2017.
The teaching awards aim to stimulate scholarly teaching, related activities, and to recognise a relatively new lecturer who is an exceptional teacher in his/her discipline.
Professor Martin Hill and Dr Gladman Thondhlana, the 2016 recipients of the Vice Chancellor's Senior Distinguished Teaching Awards will share the platform tonight at Eden Grove Blue at 18h30.
Professor Hill, Head of Entomology and Director of the Department of Zoology
and Entomology at Rhodes University will present a lecture titled, Thesis in an hourglass: an approach to guiding postgraduate students through the development of a thesis.
Hill is also the recipient of the 2014/2015 National Science and Technology Forum (NSTF) Award for his project in biological control of invasive aquatic weeds that help to return invaded aquatic ecosystems to functioning states that includes community engagement.
Senior Lecturer in the Department of Environmental Science, Dr Gladman Thondhlana's lecture entitled Every student matters: understanding students' experiences in the context of diversity.
The avid educator has a key research interest on how group work, in an increasingly relationally diverse environment, can be more expansively viewed and crafted as 'terrains of learning' for students.
Dr Gladman has a PhD in Environmental Science from Rhodes University. He teaches both undergraduate and postgraduate students. His research career focuses on understanding the links between wild resource use, rural livelihoods, pro-environmental behaviour (energy, water, recycling), within the context of sustainable natural resource management.
On Thursday, 24 August, the joint winners of the VC's 2016 Distinguished Research Awards Dr Dion Nkomo and Professor Julie Coetzee will present their respective lectures.
Source: Communications
Please help us to raise funds so that we can give all our students a chance to access online teaching and learning. Covid-19 has disrupted our students' education. Don't let the digital divide put their future at risk. Visit www.ru.ac.za/rucoronavirusgateway to donate