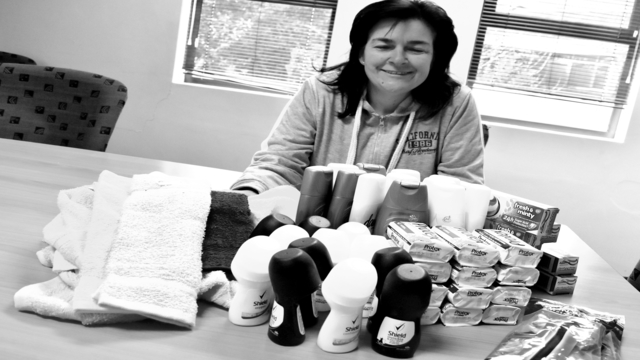 For her 47th Birthday on 16 August, Donor & Office Administrator, Ms Bunnady Landman wanted all her gifts to be in a form of basic toiletries, stationery and clothing, which she would then donate to students as part of the Dignity Drive.
Founded by Rhodes University student, Alirian Gibson, the Dignity Drive forms part of Give 5, a student fundraising campaign that aims to raise funds for pocket money and toiletries for students in need.
On the day before her birthday, Landman sent out a request to the Rhodes community. She said that her birthday wish was for her friends to donate basic toiletries towards the Dignity Drive.
"The response was phenomenal and everyone responded positively by donating supplies including soap, deodorant, toothpaste, toothbrushes, body cream, sanitary items, razors and shaving cream for men," she said.
"I loved that the drive caters for both male and female students, because often the needs of young men are forgotten. The support the Dignity Drive has been receiving has been unbelievable, I wanted to use my birthday to maintain this momentum," said the mother of two boys.
Landman has received generous contributions from staff members as well as departments, especially around this time of the month. "Salaries has donated the most items, as seen in the picture. I want to challenge individuals and departments to beat this record set so far."
Vice - Chancellor, Dr Sizwe Mabizela has also come out in support of the initiative. He has called on the University community to continue to support initiatives such as these.
"Although there are a number of fundraising projects that focus on financial aid for fees, there are every day needs that, if not met, can be depressing for a young person. Being in University requires a clear and focussed mind without the burden of conditions reminding you that you come from a different financial background than your fellow students," he said.
Donations can be dropped off at Alumni House (next to Eden Grove and The Block House).
For more information on the Dignity Drive, the Pocket Money Fund and Give 5 click on the link: https://www.facebook.com/RhodesUniversityGive5/
Source: Communications
Please help us to raise funds so that we can give all our students a chance to access online teaching and learning. Covid-19 has disrupted our students' education. Don't let the digital divide put their future at risk. Visit www.ru.ac.za/rucoronavirusgateway to donate