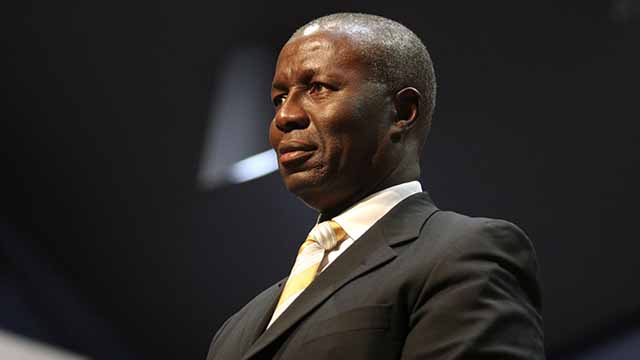 Justice Dikgang Moseneke, acclaimed authors, Dr Sindiwe Magona and Prof Peter Mtuze among six exceptional individuals to be conferred with Honorary Doctorates by Rhodes University.
At its 114th graduation scheduled for April 5 - 7, Rhodes University will bestow six eminent South Africans with the highest honour in recognition for their contribution in various fields including culture, education, economic policy, social upliftment, health and jurisprudence.
The six honorary doctorates recipients include Dr Sindiwe Magona, Prof Peter Mtuze, Dr Andrew Mlangeni, Professor Vishnu Padayachee, Ms Yvonne Chaka Chaka and Judge Dikgang Moseneke.
Dr Sindiwe Magona, is a world-renowned author, poet, playwright, storyteller, activist, language ambassador and inspirational speaker who worked her way up from being a domestic worker. She is the official biographer of Archbishop Njongonkulu Ndungane and is currently working on abridged versions of multi-lingual books on struggle stalwarts, Walter and Albertina Sisulu. She will be conferred with a Doctor of Letters doctorate.
To be conferred with a Doctor of Letters degree, Professor Mtuze is a leading scholar in the field of African languages and was the first black professor at Rhodes University. He has published over 30 works and translated Nelson Mandela's Long Walk to freedom into isiXhosa.
Popularly known as prisoner number 46764 in political circles, Dr Andrew Mlangeni will be conferred with a Doctor of Laws degree. Dr Mlangeni spent years of unswerving and sustained commitment to the fight against apartheid, with 26 of these years spent on Robben Island prison as Nelson Mandela's neighbour. He embodies the values of selfless dedication to the cause of freedom, justice and human dignity.
Prof Vishnu Padayachee, who will receive a Doctor of Economics degree, is a Distinguished Professor of the School of Economics and Business Sciences at the University of the Witwatersrand. In 1996, Prof Padayachee was appointed by Nelson Mandela to the Board of Directors of the South African Reserve Bank where he served three terms over 12 years.
He has authored and edited a number of books, written over 30 chapters in books and published over 90 articles in accredited academic journals within the broad themes of political economy, economic and social history, and development, monetary history, theory, and policy in South Africa, the Political Economy of restructuring South Africa, and a study of South African capitalism. Prof Padayachee has made an exceptionally distinguished contribution to the post-apartheid transformation of the South African economic policy in ways that serve the economic and social needs of all South Africans and marginalised black South Africans, in particular.
Yvonne Chaka Chaka was chosen by Former President Nelson Mandela as the first ambassador for his Children's Fund and ambassador for the 46664 campaign to raise global awareness about HIV/Aids. She also serves as a UNICEF's Goodwill Ambassador for the Roll Back Malaria Partnership and was named one of the Top 100 Heroes of South Africa by The Star Newspaper.
Prior to her involvement in humanitarian work, Ms Chaka Chaka had a musical career spanning three decades. Dubbed the Princess of Africa, she is one of the first South African artists to break through to the international stage. She will receive a Doctor of Laws degree.
Former Deputy Chief Justice Dikgang Moseneke will receive a Doctor of Laws degree. Judge Moseneke has made an exceptional contribution in the development of the jurisprudence of South Africa. In particular, the ground-breaking and progressive judgements he has penned relating to affirmative action, property law in respect of land rights and expropriation, and the constitutionality of Parliamentary Rules.
"It is a privilege for us as the Rhodes University community to honour such outstanding citizens for their many and significant contributions. We warmly congratulate them for their notable achievements. Not only have they made it their life's work to enrich the lives of others, they are also excellent role models to us all," said Dr Sizwe Mabizela, Vice- Chancellor for Rhodes University.
Source: Communications
Please help us to raise funds so that we can give all our students a chance to access online teaching and learning. Covid-19 has disrupted our students' education. Don't let the digital divide put their future at risk. Visit www.ru.ac.za/rucoronavirusgateway to donate