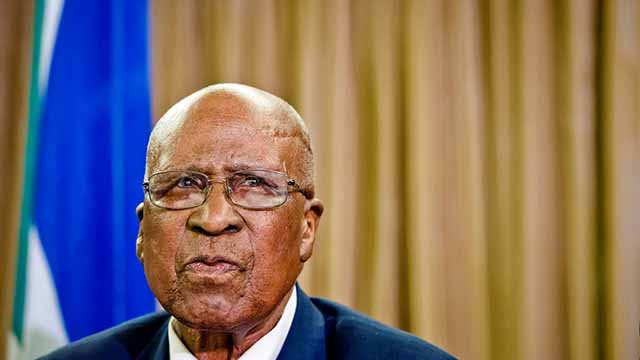 One of this year's celebrated Rhodes Honorary Doctorate recipients is activist Dr Andrew Mlangeni, who will be bestowed with a Doctor of Laws (LLD).
Popularly known as prisoner number 46764 in political circles, Dr Mlangeni spent years of unswerving and sustained commitment to the fight against apartheid. He embodies the values of selfless dedication to the cause of freedom, justice and human dignity.
Mlangeni is among the first people to be deployed for the ANC military training wing Umkhonto WeSizwe outside the country. On his return in 1963, he was arrested after state witnesses told the court that he was one of the people responsible for recruiting and training an armed force. He was found guilty and sentenced to life imprisonment on Robben Island.
The freedom fighter spent twenty-six years locked up in Robben Island as Nelson Mandela's next-door inmate neighbor. He was released in 1989 during the negotiations between the government and the African National Congress.
While on Robben Island, he obtained a degree in Political Science and Public Administration. He also graduated with a BA Honours in Political Science. Upon his release in 1989, he continued to study a law degree, which he unfortunately did not complete because of his work for the ANC preparing for the first democratic elections.
He is the recipient of several awards including the ANC Isithwalandwe, the highest honour awarded by the ANC to those who have made an outstanding contribution and sacrifice to the liberation struggle, as well as The Order for Meritorius Service Class 1 (Gold) in 1999 (then the country's highest honor, awarded to South Africans who have rendered exceptional public service)
His biography The Backroom Boy is described by many as an important contribution to the history of the struggle. Born in Soweto in 1926, Mlangeni started working at the age of 12 to assist his mother in maintaining a family of eleven. It was while working as a bus driver in Johannesburg that he became active in the strike for better working conditions and a living wage.
The former member of Parliament was responsible for Government, Public Administration and Defence. He was also the member of the National Executive Committee.
He serves as the Chair of Matodzi Resources Limited in Johannesburg. He is also the founder of the June and Andrew Mlangeni Foundation. Unfortunately his wife June died in 2001.
Mlangeni once said, "Mine is a story deriving its significance from the unbreakable link with the noble struggles of a nation to be free".
Source: Communications
Please help us to raise funds so that we can give all our students a chance to access online teaching and learning. Covid-19 has disrupted our students' education. Don't let the digital divide put their future at risk. Visit www.ru.ac.za/rucoronavirusgateway to donate