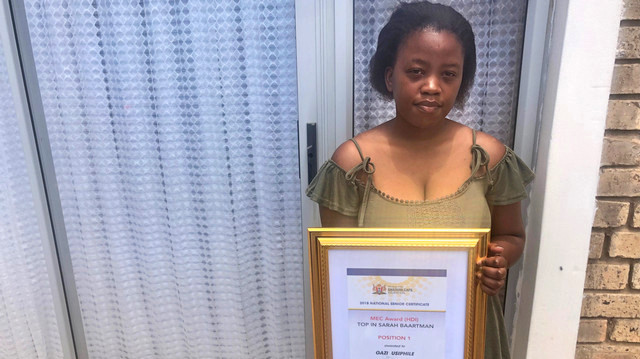 By Thobani Mesani
The Eastern Cape Department of Education named Usiphile Gazi as the top matric 2018 learner from a historically disadvantaged institution (HDI) in the Sarah Baartman District on Friday 4January, at an awards ceremony in East London.
Usiphile was part of the 9/10ths Mentoring Programme, a Rhodes University and GADRA Education partnership initiative geared towards equipping matric students in selected local schools to cope with their final year of school and to pass to their full potential. Learners in this programme are given one-on-one attention from a Rhodes University student through nine guided and structured contact sessions.
Despite the sacrifices she made while in matric, she was still in disbelief when she received the news about her outstanding results. "I could not believe it when I got a call from the school letting me know about being a top learner in the district. I had to wake my mom up and share the news with her just to make sure I wasn't dreaming," she said.
She obtained over 80% for isiXhosa Home Language, Geography, Life Sciences, Physical Sciences; over 70% for Life Orientation and English First Additional Language; and 68% for Mathematics.
She attributed much of her success to the 9/10ths programme and her Rhodes University mentor, Thandi Nqowana. "9/10ths helped me a lot with learning to summarise and how to study effectively. Thandi also helped with past question papers so I could practise. She motivated me."
Nqowana was also part of Rhodes University programmes while in high school. After high school, she enrolled at Rhodes where she has, for a number of years in a row, been recognised as one of the Top 10 Rhodes University volunteers and in 2018 received a Community Engagement Student Researcher of the Year Award. Nqowana is currently doing a Bachelor of Sciences Masters degree.
Nqowana expressed how proud she is of her mentee. "Usiphile was very proactive and hardworking throughout the year. She did not wait for our contact sessions to ask for help. She would call whenever she needed assistance with her school work and I loved that about her," she said.
Usiphile has already been accepted at Rhodes University for a Bachelor of Pharmacy degree. She also received a bursary from the Eastern Cape Department of Education.
Her parents, who are both support staff at the University, have not stopped celebrating since they heard the news. "She makes me happy and proud. She has always been a hard worker. She had no time for TV or her cellphone. She focused on her books," said her mother, Monica Gazi. She hopes Usiphile continues with her hard working habits for the duration of her studies at Rhodes.
Usiphile's alma mater is Ntsika Secondary School. Her principal, Madeleine Schoeman said that they are overjoyed at her results and proud that the school has produced a top learner for a second year in a row. "This is all made possible due to the school and learner's commitment, the Rhodes University 9/10ths programme, the broader community, parents and all of the school's partners," Schoeman stated.