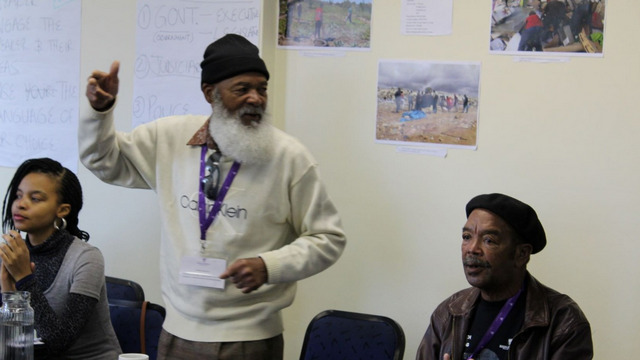 By Matebello Motantsi, Honours in Journalism and Media Studies student
The Vuyisile Mini Winter School is an annual initiative of the Rhodes University Neil Aggett Labour Studies Unit (NALSU), in partnership with the Friedrich Ebert Stiftung (FES) foundation – a German funding body. This year, it runs from from 9-12 July.
Now in its fourth year, the Winter School is aimed at empowering and uplifting the trade union movements and corroborating and bringing their views into the spotlight, in honour of the late trade union activist, Comrade Vuyisile Mini.
Present this year are members and affiliates of various South African unions that represent labourers – national, provincial, and local Makhanda-based unions, as well as those formed on the Rhodes University campus.
While trade unions generally attend to the needs of formally-employed people, this initiative further accommodates the affiliates of the Unemployed People's Movement. During this four-day event, presenters and the unionists will discuss and deliberate on theories and matters that affect or hinder the respective movements. Daily themes include: Social theory on the state; Economic policy and the limits to change; Democratic practice and societal transformation; and The scope for working class political agency.
NALSU organised a panel of specialists to discuss these themes, who will present the core ideas to the comrades daily in interactive sessions. Following the presentations, comrades are expected to break away into groups, where they will deliberate on matters drawn from the presentations and build feedback.
In the opening session, Head of NALSU, Dr John Reynolds, assured the Comrades that their feedback would be captured into a publication for each to take home, and for the purposes of improvement of the movement and the Winter School initiative for coming years.
Also in attendance was Mini's two sons and niece. Speaking on behalf of the family in the introductory session on Tuesday morning was Xolile Mini, a fellow Comrade who began his message with a profound struggle song. "This is where we need to alternate our history," he said. He also stressed that Vuyisile Mini's history and those of many other struggle heroes are falsified by Western literates, and it is therefore up to them to fix what has been wrongly reiterated for so many years.
All the speakers who took the stand on Tuesday, reminded attendees that the space in which they were assembled is an open space for thought-provoking ideas, personal and unionist development, socialist transformation, and the fight against capitalism and all forms of domination that hinder the growth and movements of the Comrades present.