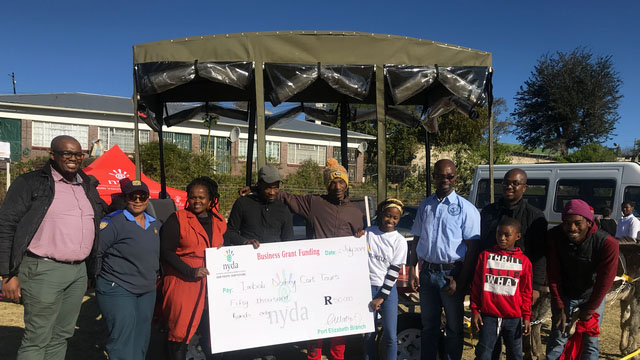 Rhodes University's Enactus 2018/2019 Commitee has so far raised R150 000 for uplifting, empowering and equipping the local community.
The initiative forms part of an international student society, and it is dedicated to igniting business innovation and to spark social entrepreneurship through collaboration with students, academics, and business leaders and institutions.
Of the four Enactus projects, two have been funded by National Youth Development Agency (NYDA) and the Eastern Cape Department of Sport, Recreation, Arts and Culture. These projects are the Liviwe pop up cinema and Imbali donkey tours.
Liviwe Pop Up Cinema
Liviwe Pop Up Cinema was founded upon identifying a lack of adequate distribution channels and exhibitions of locally-produced, quality films. Therefore, the social enterprise focuses on exposing disadvantaged residents to a broader consciousness of thought, to help instil impact change. The beneficiaries of the project are two locally established storytellers, Liyabona Landu and Viwe Nongcawula. The project educates, entertains, informs and connects those residing within the borders of the Sarah Baartman district, Eastern Cape, which encompasses seven municipalities, with an estimate of 20 schools per municipality.
The pop up cinema launched its first screening at Seven Fountains (30 km outside of Makhanda), which impacted approximately 70 residents. Since then, more screenings were held in order to increase the breadth of the impact.
Imbali Donkey Cart Tours
Imbali Donkey Cart Tours comprise of comfortable donkey cart tours of Makhanda, while a guide provides commentary on the history, heritage and culture of the town and its surroundings.
Operations were officially launched during the National Arts Festival (NAF) 2019 – the biggest, busiest and most exciting celebration of the arts in South Africa. The project beneficiaries are Malibongwe Donteli and Banele Phatsha – two local donkey owners with cart drivers.
The launch took place at Fiddlers Green with the first donkey cart ride in full swing with the Enactus team. Amongst some of those in attendance were the NYDA PE branch manager Mr Siyabulela Zondani, Sifiso Mlimi, Rhodes University Enactus Faculty Advisor Dr Nosiphiwe Ngqwala, SPCA specialist Mr Stanely Adams and traffic department officials, to officiate and support the initial ride.