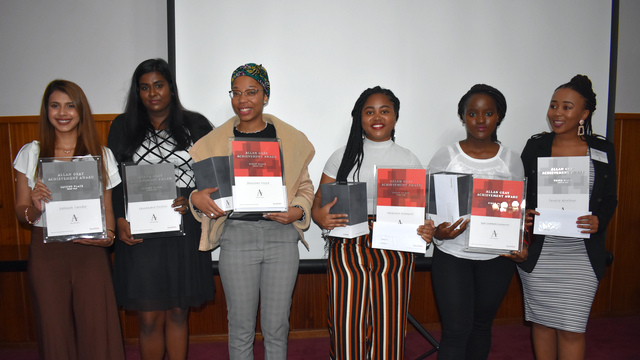 By Tanatswa Chivhere, Journalism and Media Studies student
Rhodes University, in collaboration with Allan Gray, recently hosted the Allan Gray Academic Achievement Awards Ceremony during which the top achievers in certain courses that may be taken in degrees offered by the University's Faculties of Commerce, Science and Humanities were celebrated and awarded prizes.
The ceremony began with a speech from Dean of Commerce Professor Dave Sewry, who emphasised the importance of the ceremony. He described how Allan Gray approached him in 2012 with the idea, because they wanted to look for a way to recognise top academic achievement. They worked together to find a way which would "celebrate the scholastic achievements of students in a style distinctive of the values embraced by Allan Gray (of being independent-minded, long-term oriented, performance-driven, client-focused and individually accountable) and of the goals of Rhodes University (in its pursuit of top academic achievement in an environment where leaders learn and flourish)". The Awards are based on academic results (as assessed by Rhodes University) and an essay (as assessed by Allan Gray).
Winners included:
At second year level:
First: Siphe Lindokuhle Makalima
At third year level:
First: Ndigwana Mukapuli
Second: Salmah Vawda
Third: Chilala Chicha
At fourth year level:
First: Busisiwe Hopa
Second: Cassandra Pachai
Third: Ponts'o Khalane
Prof Sewry congratulated the students who received Allan Gray Academic Achievement Awards. "You're definitely worth it and we're very proud of you," he said. He also thanked colleagues in all the Faculties who create a wonderful environment in which students can thrive, and the students who participated in the Awards and "who show us up so well". He also thanked Allan Gray, most particularly Mr Faizil Jakoet, for seizing the opportunity, Ms Niki Searle, the Commerce Faculty Officer and Ms Genorie Orpen of Allan Gray who serve as the vital links between Rhodes and Allan Gray and who, together with staff of the Conferencing and Catering Division, crafted the evening as an occasion always to be remembered.
Members of staff of Allan Gray who attended the Ceremony included Rhodes Alumni Mr Dane Grobler, Ms Carey-Anne Grant, Mr Zikisa Maqubela, and Ms Katherine Burger.
The ceremony was also graced by Allan Gray Fellow Melvyn Lubega as the guest speaker. Lubega is an entrepreneur and co-founder of Go1. His journey with entrepreneurship began when he sold snacks to his boarding school mates in high school. The drive was later fuelled by a finance class which he took in his second year of university. The class gave him skills which he, together with his friends, used to invest in the stock market. This model lasted for approximately three years until some of them could no longer continue trading stocks due to compliance requirements in their workspaces.
Lubega co-founded Go1 with his friend Andrew Barnes whilst they studied towards their Master's Degrees at the University of Oxford. Go1 is an e-learning platform that gives clients access to self-developed training content in a user-friendly format across any device. Lubega describes it as "a way of combining learning management systems (the bookshelf) and content providers (the books)". The two elements come together to create a library where companies have access training content that is easy to consume. Go1 is currently the largest corporate training platform in the world. In 2014, it was acknowledged as the best new learning management system out of 165 systems globally. The company has offices in Australia, Johannesburg, San Francisco, Salt Lake City, London, Vietnam, Spain and Kuala Lumpur. It is used in 24 countries and offers up to 200 000 world-class courses.
After recounting his journey to the awardees, Lubega gave them three important pieces of advice as his parting words. "Firstly, success comes when opportunity meets preparation," he said. He advised students to start working on their goals while they are still in university. "University is the best time to prepare because you have a lot of free time to utilise and you are surrounded by like-minded individuals," he said. He urged students to ask themselves if they are in a position to receive their blessings before they start wondering why they are not making any progress.
Secondly, he told students that no man/woman is an island. "It is important to find partners with different skill sets so that there is a range in the workplace," he said. There is no space for selfishness in the business world and it is important to be aware of one's abilities and where they are limited. "I would rather have 50% of something than 100% of nothing", he added.
Thirdly, a person should run their own race and appreciate their journey. People go through life at different paces and one should avoid using another person's success as a yardstick of their own. Lubega encouraged students to be brave and to pitch their ideas to as many people as possible. "It only takes one 'yes' to change your life," he said.