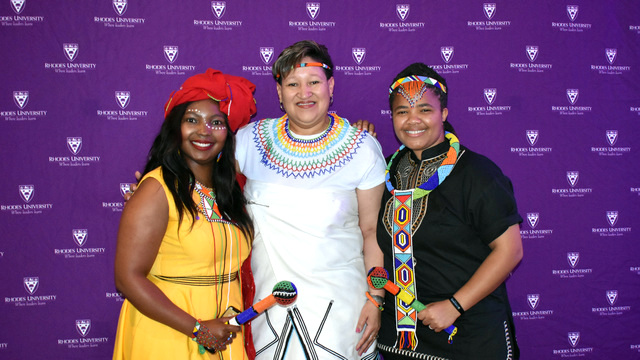 By Zandile Hlabangane, fourth-year BJourn student
Rhodes University's growing number of engaged research outputs has positioned the institution a national leader in the scholarship of engagement discipline.
This is largely due to the work done by the Rhodes University Community Engagement (RUCE) Division, who held its annual Awards & Gala Dinner on 2 October at the Oppidan Dining Hall.
"The number of research outputs from RUCE has been growing exponentially over the past four years," explained Benita Bobo, Lecturer and Coordinator for Volunteerism and Service-Learning at RUCE. "Over the last academic year, RUCE researchers and scholars have produced 5 accredited journal articles and chapters, a further 8 under review as well as 13 conferences presentations. All of this highlights the growing expertise in the emerging discipline of the scholarship of engagement at Rhodes University, which is now recognised as a national leader for engaged research."
The Annual RUCE Awards & Gala Dinner is one of the highlights on the Rhodes University calendar, as it is a time to acknowledge the dedicated service of RUCE student volunteers and community partner organisations. Community engagement is a commitment to social justice and to the transformation of the University and community.
Guest speaker for the evening, Mr Allan Magubane, who is a former Rhodes University Scholar and Deputy Head of Transformation and Diversity at St. John's College, mentioned the importance of community engagement and sharing within our broader community. He said, "We need to share love. We need to share love here and in Joza."
Bobo further highlighted the Division's achievement for the last academic year. "This year, Thandiswa Nqowana and Mateboho Ralekhetla, the first two Masters students supervised in RUCE, successfully completed their MSc degrees using engaged and participatory methodologies," she said.
Moreover, RUCE has continued to develop new ways of strengthening service learning within the University and across the country by launching a new accredited online community-based service learning short course. "The purpose of this course is to successfully equip academics with the theoretical knowledge and practical skills to create sustainable courses in partnership with community-based organisations. In turn, this will improve knowledge exchange programs at the university, and promote a new generation of engaged Rhodes University graduates," said Bobo.
In this year alone, RUCE volunteers have served over 31 000 hours to Makhanda through the various volunteer programmes and VC's Education Initiatives. The Engaged Citizen Programme saw 198 student volunteers meet the required standard to receive a University-accredited short course certificate for their voluntary service this year. Over 400 students in Rhodes University residences participated in the Siyakhana@Makana (S@M) programme led by 56 Community Engagement Residence Reps.
With regards to the VC's Education Initiatives, Budding Q, which is an early-childhood literacy programme aimed to develop children's fine and gross motor skills, saw 54 volunteers being awarded 'committed volunteer' certificates this year. Ninety Rhodes University mentors were also awarded short course certificates for Nine Tenths Mentoring, which is done in partnership with GADRA education, Faculty of Education, and Ntsika, Mary Waters and Nombulelo Secondary Schools, to revive Makhanda's schooling system.
The awards ceremony ended with a vote of thanks from the RUCE Director, Di Hornby, who congratulated all the finalists and volunteers. "Everyone here has contributed to community development in Makhanda this year, we acknowledge you alongside the winners," she added.
Award Winners:
Society/Sports Club of the Year: Enactus
Residence/ Hall of the Year: Nelson Mandela Hall
Community Partner of the Year: CM Vellem Health Promoting Primary School
Student Researcher of the Year Award: The Sustainable Land Management Group: Buhle Francis
Student Volunteer of the year (Joint Award): Samantha Ncula and Mandilakhe Valela
Gold Awards for Excellence in Community Engagement:
Sibusiso Klaas
Claire McCann
Uthandile Samela
Samantha Ncula
Lukhanyiso Cezula
Sive Vena
Mandilakhe Valela
Megan Harris
Sanele Ngubo
Asakhe Cuntsulana