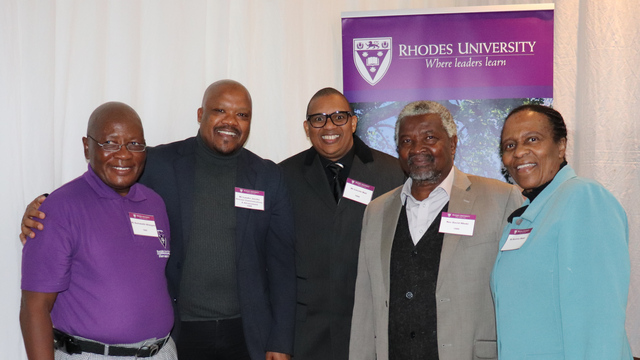 By Hazel Simpo, Psychology Honours student
A gala dinner was held on 29 June at Bantu Steve Biko Oppidan Dining Hall for Rhodes University's Alumni classes of 1980 to 1995. The event was hosted by Dr Sizwe Mabizela and the master of ceremonies was the SRC President, Samkelo Mngadi.
Like other speakers during the night, Dr Mabizela touched on the struggles of apartheid, especially how they affected tertiary education institutions. He said that on 17 September 2008, the Rhodes University Student Union Building was renamed to the Bantu Stephen Biko Building, and this is why he felt it was of paramount importance to host the alumni at this venue. "The decision to rename this building signalled the University's commitment to redress past failings and to promote reconciliation and healing," he said.
He also said that Old Rhodians have had the honour of studying at a very special and distinctive university, one that deservedly commands an enviable academic reputation nationally and internationally. He applauded the alumni for all the support they offer to the University, including their support during different student movements. "Be the reason that someone feels loved and be the reason that someone believes in the goodness of people," he encouraged.
Lincoln Mali from Standard Bank was another guest speaker at the gala dinner. He reflected on his life at Rhodes University and those of his colleagues. One of the memorable events he shared with the group was that of Chris Hani and Nelson Mandela visiting Rhodes University. "South Africa needs leaders like Chris Hani, who are there to serve others, and who stands for something bigger than themselves," he said.
Mali recalled how various socio-political incidences that took place at Rhodes University helped make him who he is today. One of his most painful moments was not being able to attend his own graduation due to the graduation boycott students had against the education system at the time.
But Mali was able to then attend his postgraduate graduation after the graduation boycott was lifted. He stated that he is now in a space to say that he is healed. "During the #feesmustfall movement we, as alumni, said we should find solutions because we feel that we are the backbone of this community," he said.
Mali is part of a group of Rhodes alumni who assist with the funding of Rhodes Law students. They have supported six black students, of whom, three former students are now admitted attorneys. Although he has never yet met the other beneficiaries, they are planning their first get-together in September. "As alumni, there is a lot that we can do to transform the lives of needy individuals," he stated.
The last speaker for the night was Dr Jennifer Molwantwa who is a Water Research Management Executive at Inkomati-Usuthu CMA. Dr Molwantwa did all her studies at Rhodes University, from her Bachelor of Science, right up to her PhD in Biotechnology, and also served on the SRC. These days, she finds great inspiration in Rhodes University's Distinguished Professor Tebello Nyokong.
She told the crowd that she chose to study at Rhodes University because it is one of the best universities in South Africa. "And I didn't do it just for myself. I did it for all those who supported me throughout the journey," she said.
Dr Mabizela concluded the event by thanking everyone who made the homecoming events a success. He thanked Mngadi, saying that Rhodes University is very fortunate and privileged to have young people who avail themselves to serve other students. "Over the years that I have been here, we have never struggled with SRC members passing their courses and moving on," he said.
The band 'Sforzando' and DJ Raymond Mojapelo provided entertainment and had everyone dancing and celebrating till late into the night.
For photos from the evening, please click here.
To read about the Alumni storytelling event on 28 June, click here.