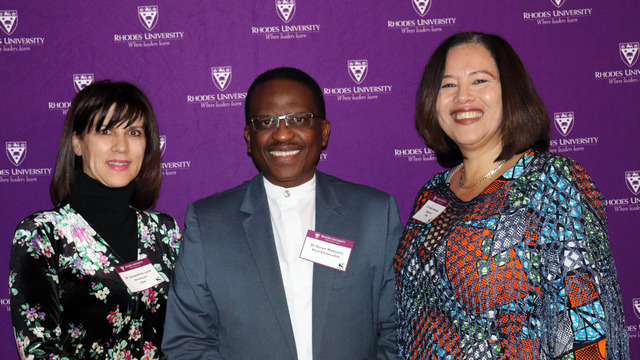 By Hazel Simpo, Psychology Honours student
Rhodes University's Alumni Relations held a festival cocktail in honour of homecoming classes of 1980 to 1995 on 28 June at the Senior Common Room.
Addressing those in attendance, Mr Samkelo Mngadi, the SRC President and the master of ceremonies, applauded the Old Rhodians for attending these distinguished events. The cocktail event was hosted by Rhodes University Registrar, Dr Adele Moodly who expressed her pleasure and honour to be part of this event.
Nedbank sponsored the event to provide services of Imbawula to create memories of storytelling. The Registrar embraced her title of being the first black female registrar of Rhodes University, highlighting that women of all races have in the past been marginalised from leadership positions.
Dr Moodly explained and reflected on her experiences at Rhodes University during the apartheid era whereby students were detained for long periods, fighting against black oppression. She gave emphasis on the gradual changes that have taken place since 1994 in terms of racial composition.
"In 2019, 82% of the student body are black out of 8300 students and the first black African female Deputy Vice-Chancellor has recently been appointed," she stated. She also gave a summary of the Institutional Development Plan (IDP) pointing to the four transformation pillars of Rhodes University., which are: sustainability; advancing social justice; advancing the public good purpose of Higher Education; and being simultaneously locally-responsive and globally-engaged.
Furthermore, Dr Moodly gladly expressed she is a proud Old Rhodian because of the overall performance of the institution's research capabilities. "We are generally in the top 3 and in the last audit we were number one, after we spent time sharing the position with Stellenbosch University," she said to enthusiastic applause. In terms of funding, the Registrar commended the alumni for their unconditional support in raising funds and opening doors to meet with potential donors.
She also briefed them on the Isivivane fundraising initiative, which aims to raise a billion rand in 10 years for the "missing middle" student group. She echoed Dr Mabizela's affirmation that no financially-needy but academically-capable student should be turned away from the University. Lastly, she emphasised that the University gets much of its esteemed reputation from its alumni, and once again thanked those in attendance.
Among the alumni storytellers was Mkhuseli Faku who is the Chair of Calulo Investments. He humorously recounted his "firsts" at Rhodes University. He shared both beautiful and sad experiences that he attained during his studies at the University. He said that he got his first degree from Rhodes University, proceeded to attain another one at Witwatersrand Business School and finally, at Harvard University. Faku is a retiring businessman, which he is finding very difficult after so many years in business. He highlighted that he has built a number of libraries in primary schools with the aim to give back to disadvantaged communities. "Judge the University by the life that it gives you and not its size" is the advice that he gives to those who consult him about which university to go.
Primrose Igonor, Coordinator of the Faculties of Psychology and Diversity, Equity and Inclusion at Marion Technical College in USA, was another of the storytellers. She graduated from Rhodes University in 1993 with a BA in Psychology and English Language and Linguistics. It was at Rhodes University that she became aware of the social injustice, inequality and inequity during the apartheid era, she said. She credited the University for her leadership skills. Igonor has worked as a lecturer in a number of institutions, including University of Fort Hare and Open University, and has also spent time as a Clinical Psychologist.
In Canada she ran a private practice which she named Ubuntu Psychological Services. "I was very fortunate that my educational and work experience in South Africa was accepted when I moved overseas. This goes to show you how blessed we are to have attained a degree at Rhodes University," she shared. She said that wherever she goes, she teaches young African people not to look down on themselves and shows them that Africa has a lot to show the world.
Thapelo Pitso, Alumni Organiser of the Homecoming and Maths, Science and Technology Coordinator at Free State Department of Education, was the final storyteller. Pitso graduated with a Bachelor of Science degree from Rhodes University in 1987. He believed that this type of storytelling is crucial as it helps to heal and share the various experiences that each generation had at Rhodes University. "Language and interacting are very important, especially in passing knowledge from one generation to another," he said. He concluded by asking the Rhodes University alumni to keep the spirit of togetherness and to keep supporting different University projects.
Lonwabo Daniels from Nedbank wrapped up the festivities of the evening. He echoed the words of Nelson Mandela that "education is the most powerful weapon which can be used to change the world". He said that Nedbank strongly believes that education will make tangible and sustainable differences in the future of South African universities. He emphasised the importance of partnerships between sectors to enhance sustainable education. He urged the alumni to be examples in the world and to strive to make differences wherever they go.
The evening was enhanced by the performance from DJ Slyso, Umhlobo Wenene presenter and musician, and Andy Ndlazilwana's band.