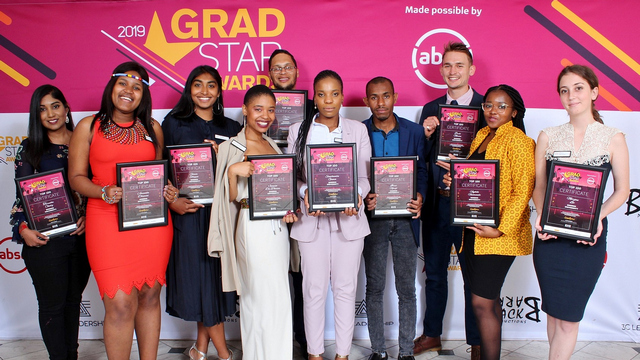 After receiving thousands of entries from across the country and putting the entrants through a rigorous judging process, South Africa's Top 10 university students have been unearthed from across the country, chosen from the Top 100 identified by the GradStar programme, now in its fourth year.
The GradStar programme is made possible by headline sponsor Absa and employer sponsors Accenture, DHL, Epiroc and Fasken, and is set up by BlackBark Productions (creators of the Rising Star Awards). It is a uniquely-developed programme that focuses on quality connections, and complements existing employer programmes. It is designed to provide previously unrecognised students with opportunities for employment and allow them to contribute positively to South Africa's future growth.
These university students show the best potential as the country's future leaders, and their assessment throughout the process is conducted by key assessment providers 3C Leadership, employers and universities.
The final stage of judging, deciding on the '10 of the Finest', took place on 19 September 2019 after the Top 100 were guided through employer workshops.
TEN OF THE FINEST (in alphabetical order by university)
| | | |
| --- | --- | --- |
| NAME | FIELD OF STUDY | UNIVERSITY |
| Yeshveer Manawar | Bachelor of Engineering Technology (Chemical Engineering) | Durban University of Technology |
| Ntsako Mogatosi | Master of Arts (Research Psychology) | Nelson Mandela University |
| Lesego Sole | Bachelor of Commerce (Law) | North-West University |
| Chevon Mia | Bachelor of Arts Hons (Human Kinetics and Ergonomics) | Rhodes University |
| Travis Defty | Bachelor of Engineering (Mechatronics) | Stellenbosch University |
| Kaila Fourie | Bachelor of Business Science (Actuarial Science) | University of Cape Town |
| Ruey Shiuan Chang | Bachelor of Finance Hons (Financial Management) | University of Johannesburg |
| Hee-Rak Lee | Bachelor of Laws | University of Pretoria |
| Lelethu Nogwavu | Bachelor of Laws | University of the Western Cape |
| Phenyo Mabokela | Bachelor of Commerce (Management Accounting and Finance) | University of the Witwatersrand |
All Top 100 Students were recognised at a Gala Dinner at Indaba Hotel, featuring Dr Thokozile - Lewanika Mpupuni, Absa's Group Head of Leadership, Learning and Talent, and Akhram Mohamed, Chief Technology Officer – South Africa Device Business, Huawei. Although the GradStar programme's patron, Dr David Molapo, could not attend, he sent a video message congratulating and inspiring the Top 100 students. "This is a worthy programme," he said. "It is designed to uplift the student youth and provide an aspirational platform to assist them in achieving their potential."
Tension was high before the '10 of the Finest' were announced at the end of the evening and presented with their trophies by the employers who had assessed them earlier that day.
Dr Mpupuni offered the following words of wisdom for the students: "It is now time to bring even more of your talents and possibilities to life. It is time to be even more brave, more passionate and more ready! Being brave requires you to set even bigger goals for yourself, and the people you will work with. Being passionate is having purpose and meaning as the fuel that drives you. Going that extra mile because you know it can be done, and has to be done, because it matters. Being ready is your commitment to lifelong learning in order to continually make a difference through your talents and abundant possibilities."
The GradStar competition process is designed to emulate the process that top employers use to find their future talent, and uses behavioural testing and personal interviewing amongst other methods as measurement tools. It allows students to familiarise themselves with the formal graduate programme application process, and enables them to identify their own strengths and weaknesses along the way.
"I am particularly proud of the GradStar programme for the way it develops our very young talent in South Africa," says Laura Barker, MD of BlackBark Productions. "The Top 100 will each be connected with a business mentor, who has been recognised through our Rising Star Programme, to further ready them for the workplace. This is a unique and valuable opportunity for each graduate to draw upon the expertise and knowledge of those who have gone before them, and start their careers on a solid foundation."
Students from Rhodes University who made the Top 100 list:
| | |
| --- | --- |
| Amanda Dlamini | Rhodes University |
| Antonette Motloung | Rhodes University |
| Brett Mason | Rhodes University |
| Chevon Mia | Rhodes University |
| Idris Njanje | Rhodes University |
| Morgan Lee | Rhodes University |
| Nqobile Nzimande | Rhodes University |
| Octavia Du Plessis | Rhodes University |
| Shana Ellappa | Rhodes University |
| Sinethemba Gama | Rhodes University |
| Tarusha Chetty | Rhodes University |