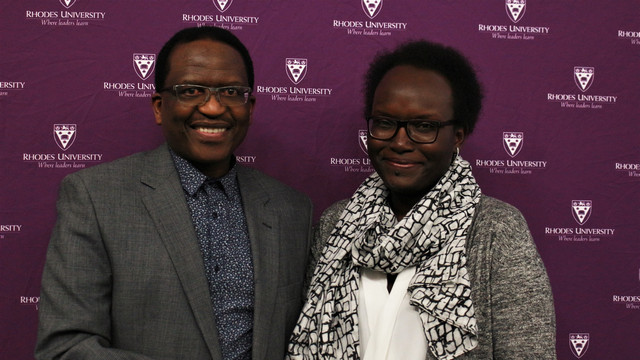 By Karabo Baloyi, MA in Journalism and Media Studies student
As the recipient of the 2018 Vice-Chancellor's Distinguished Research Award, Professor Caroline Khene presented a lecture on her award-winning research on Information Communication Technologies for Development (ICT4D) on 9 October, at Eden Grove Blue Lecture Theatre, Rhodes University.
Prof Khene is an Associate Professor in the Department of Information Systems at the University, with a special interest in ICT4D, E-governance, and Digital Citizen Engagement.
Vice-Chancellor, Dr Sizwe Mabizela, described her as a change-maker within her field and an exceptional researcher among her peers. "She has been a mentor for students in various disciplines such as Computer Science, Journalism and Sociology. Her skills are inspiring," he stated.
He also described her as passionate, dedicated and thorough, producing research that is always at the highest calibre: "Prof Khene's research exemplifies the kind of engaged research that Rhodes University seeks to promote," he said.
Prof Khene explained the philosophical approach behind her research. She said pragmatism as a research philosophy helped her gain a deeper understanding of the challenges that people in society face, and this understanding helped her to better work together with the research participants. "My interest in ICT4D theory emerged from what I saw as I was growing up as a child. It made me want to see positive changes and developments for the people who are reliant on and deserving of well-managed government services," she explained.
Part of her research noted that there were no development strategies, information strategies and technology strategies to guide the various technological developments used in marginalised communities. Instead of ignoring the need for ICT in these communities, researchers started looking at how ICT4D could be integrated into existing plans and resources of the communities.
Prof Khene considered how ICT could be used to help bring meaningful change in development that did not exist before in a particular context. She used the concept of 'digital citizen engagement' to help citizens mobilise and engage with government services.
Citizen engagement is a crucial part of South African societies, where service delivery protests happen frequently and these are generally ignored by the government.
"Citizens are frustrated and the only way they know how to get government's attention is to protest. Protests can be destructive and generally don't promote long-term change," Prof Khene said.
Her key project, Mobile Social Accountability Monitoring (MobiSAM) was relaunched in 2016 to help support two-way engagement between citizens and the government, in order to promote accountability. "MobiSAM acts as a platform that allows citizens, civil society groups and the government to monitor the services that need the most attention so that when budgeting happens, the need for certain services is clear," she explained.
MobiSAM also allows citizens to collect evidence of service delivery performance in order to hold government accountable.
"This project is iterative in nature," explained Prof Khene: "We are continuously learning and changing things in order to become sustainable over time."
When Prof Khene and her team started MobiSAM with Makana Municipality, there was a lack of centrality with regards to reporting service delivery needs, monitoring responsiveness and understanding when services had been addressed.
MobiSAM allows for a centralised reporting and monitoring approach, so all stakeholders can keep track of services delivery.
"We have achieved success in some of these areas, but there are still issues regarding feedback relayed to residents," she stated.
Prof Khene continues to work with her team on MobiSAM as well as several other projects that aim to use ICT to help develop the lives of people living in marginalised communities.
"It's for my family and for the people I see struggling, that I do what I do," Prof Khene concluded.