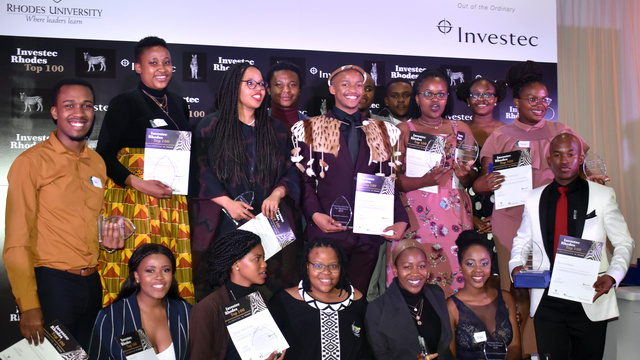 Boniswa Matiwane, Postgraduate in Media Management student
Investec Rhodes Top 100 recently celebrated its 10th-year anniversary with a night of inspiration, hope and honour.
Investec Rhodes Top 100 is a collaboration between Investec Corporate Social Investment (CSI) and Rhodes University, which recognises and reward 100 students who show excellence in academics and sport, achievements in leadership, outstanding performance as well as extraordinary contributions to the community and cultural sphere of the University.
At the celebration, Investec South Africa's Head of CSI Setlogane Manchidi gave an inspiration speech in context of the current issues plaguing the country. "We as the people of the Nation are the ones that ought to bring about the change – and the time is now."
Manchidi also highlighted the importance of passion: "You can be a leader in music, poetry, cooking, or politics. You can be a leader in whatever makes you come alive. There are too many people that are half dead."
He urged members of the audience to think intentionally about what "all hands on deck" means, after which he exclaimed 'Thuma Mina!' to encourage prize winners to leave a lasting legacy.
The ceremony awarded students in commerce and finance, community engagement, arts, culture, media and society, and sports, before renowned social media influencer Cassandra Twala gave her speech.
Twala, with her versatile and extensive profile, is also Investec's Brand Manager. Twala spoke to the students about self-definition, which she believes should encompass three key areas, namely courage, passion and curiosity. "Besides this, you should always remain compassionate and have humanity. Remember, we are all broken in some way."
Next up was Benita Bobo, Coordinator for Volunteerism and Service-Learning at Rhodes University's Community Engagement and a previous Investec Top 100 Awards recipient herself. Bobo reflected on her experience as an award recipient and how this award spearheaded a legacy of recognition in her career. Since receiving the Invested Rhodes Top 100 Award in 2015, Bobo has received a Student leadership and Community Engagement award, been named one of Africa's 100 'Bright Minds', and this year, Bobo was recognised as one of 100 South African Stars for the National Youth Development Agency and as one of the 100 Young Mandelas of the Future.
She said, "I believe none of this would have been possible without receiving my Investec Award in 2015, as it inspired me to let my passion drive me to greater heights." She urged award recipients to use their inner flame to light up the spaces that they occupy and to actively inspire change.
Towards the end of the evening, Student Services Manager Veronica Israel and SRC Advisor Eric Ofei, expressed their gratitude to Investec for the long-standing historical relationship it has with the University.
Investec Rhodes Top 100 winners for 2019 are:
Student Leadership Awards
Pumla Myeni
Unathi Mabukane
Mpumelelo Methula
Nkateko Nkanyane
Sesonasipho Yedwa
Kopano Mokoena
Siyabonga Malaza
Dzanga Matibe
Darren Wolhuter
Hlengiwe Mlambo
Zuko Ntlakaza
Ayanda Dube
Gamuchirai Kutukwa
Tebogo Molatlhegi
Amina Asma
Ralph Zizi
Theodore Duxbury
Kwanele Siyengo
Nicole Mamphey
Natasha Kapepula
Lindiwe Tsope
Katlego Mphahlele
Asakhe Cuntsulana
Lindokuhle Nene
Hunadi Sefoka
David Haimbodi
VusimaniKubhayi
Samkelo Mngadi
Phumelele Nkomozake
Khaka Mpofu
Bulelani Mvengenya
Zikhona Mtwa
Katleho Motooane
General Excellence Awards
Bradley Kent
Jenna Cook
Jessie Ditshego
Keanen-Troy Johnson
Kgothatso Lekala
Megan Reid
Paul Eilers
Tshwanelo Mabelane
Ubenathi Sisusa
Wezizwe Ginindza
Akhona Matiso
Arnold Saungwene
David Willima
Emma Parlabean
Wisdom Moyo
Kudzaishe Chingono
Lisolethu Dlova
Community Engagement Awards
Avuma Ndlole
Lebogang Nkambule
Lian May
Lukhanyiso Cezula
Mandilakhe Valela
Precious Mfeka
Sibusiso Klaas
Thomas Kruger
Wezizwe Ginindza
Ubenathi Sisusa
Yolanda Muza
Commerce and Finance Awards
Jenna Cook
Lineo Fumanisa
Nikitha Patel
Rutendo Nyoni
Thabiso Ramalope
Arts, Culture, Media and Societies Awards
Emma Parlabean
Julian Yeates
Mmatumisang Motsisi
Noluthando Sibisi
Sboniso Thombeni
Siphumelele Dyakophu
Zimkhitha Kweza
Sports Awards
Khakha Mpofu
Katlego Mphahlele
Jonathan Benjamin
James Marriner
Murray Smith
Viwe Makeleni
Karabo Mavuso
Academic Awards
Commerce
Chilala Chicha
Kenneth Chiridza
Elizabeth Charumbira
Zintle Nonqayi
Law
Siphosethu Matebese
Jeremy de Beer
Christopher Tobaiwa
Daudi Banda
Pharmacy
Anele Sibanda
Tinovimba Gore
Tasmeera Kader
Danielle Fourie
Science
Jonathan Gouws
Tawonga Chilundo
Urisha Naidoo
Matthew Lewis
Humanities
Nike Francis Mes
Laura-Jean Runchman
Josie Anne Makkink
Claire Mary Mccann