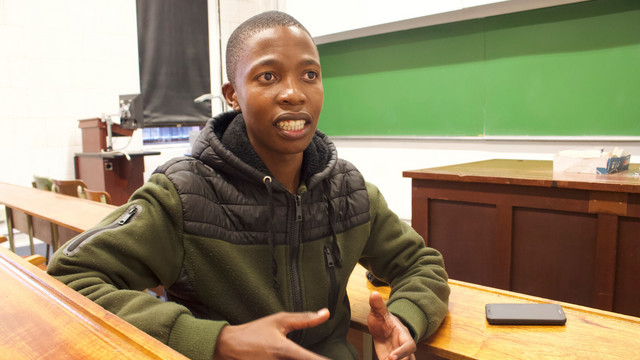 By Julian A Jacobs, PhD candidate, School of Journalism and Media Studies
Ntsikelelo Charles will graduate with his Honours degree in Physics this week and he credits, amongst others, Rhodes University's many outreach programmes over the years as an inspiration for realising his dream.
Rhodes University's close proximity to communities in Makhanda (Grahamstown) is exactly what has helped shape Ntsikelelo. He remembers a newly-appointed principal at his high school at Ntsika Senior Secondary School, Mrs Madeleine Schoeman, who brought in experts such as Rhodes University's Mathematics Department students and lecturers to help Ntsika learners with the subject.
"A certain Dr Julien Larena (Associate Professor of Mathematics at Rhodes University) inspired me to focus on Mathematics and told me about the Square Kilometer Array (SKA) radio telescope project South Africa was busy with. I was hooked," he said.
Today, in his Masters year, he is working on the SKA project. He also remembers Ms Joyce Sewry, Senior Lecturer from Rhodes University's Chemistry Department, who influenced him as well. "She and others came to our school as part of their outreach programme and I lapped up the information and my curiosity just grew and grew. I needed answers and books became my window to another world I never knew existed," he said.
But it was not just Rhodes University who sparked this idea that he can study mathematics, physics, chemistry and even computer sciences. Several other teachers inspired him such as Ms Montara who was a stand-in maths teacher for three months after their regular maths teacher left. Ntsikelelo remembers how hard he worked during his school holidays to understand Mathematics and Physical Sciences. "I read and reread books so that I could be in a better position to participate in class," he explained. Another person that stands out from his senior school days was Mr Maselwa, now retired. "He used to give us extra classes and my love for Physics exploded. He opened that portal of my life. Today, I am studying physics because of him," said Ntsikelelo.
Overcoming obstacles has been a recurring theme in Ntsikelelo's life. Ntsikelelo Charles, 23, a Makhanda resident, has lived in a room in a backyard dwelling in town. When his family could not afford to pay the rent, his parents moved into an informal settlement called Zolani. Along with his mother and three sisters, they lived there until they could get a house in Transcend Camp in 2009. Today, he still lives there with his mother. "In the early days, my mom sold vetkoek and sausages in town and in Zolani, to survive. My father worked in a mine and as a truck driver in Johannesburg during my primary school years and we hardly saw him. He joined us when I started high school and worked as a driver here in Makhanda."
At first, Ntsikelelo attended primary school at Fikizolo Primary School for two years before his mother got him in a school closer to their informal settlement. This new school was called Samuel Ntlebi Primary School, where he stayed for Grades 3 and 4. Again, he moved to a new school, this time called NW Cewu Primary School for Grades 5 to 7. "Growing up in this environment was normal for me. I never took schooling seriously enough, as I was taught that getting out of the township would not be feasible at all," Ntsikelelo said.
However, despite this attitude, things started to change for him in high school. He explained that during his high school years from Grade 9 onwards he was exposed to science projects through the Eskom Young Science Expo, a national project. He remembers his first science project for the Expo failed dismally. "It was about preserving milk and I used sugar for that," he said. This spurred him on to do other projects like cleaning or treating grey water. Eventually, one of his project paid off and he won a bursary at the Expo to study further. He chose to study at Rhodes University. He has been on a SKA and NSFAS bursary since his first year in 2015.
As he walks up the steps to the Monument building this week, he will reflect on the many obstacles he has overcome - as a scientist, he said, he isolates the many problems and only focuses on those he can solve one at a time. For Ntsikelelo, this year's graduation will be bittersweet, as his father passed away in February this year. "But I will carry his memory with me as I walk across the stage to be capped. At least he knew I passed my Honours and celebrated with me before his untimely death. I know he was proud of me, as he often told me."
Ntsikelelo has been paying it forward since his first year in 2015 by going back to his high school and offering extra Mathematics and Physics classes to struggling learners.