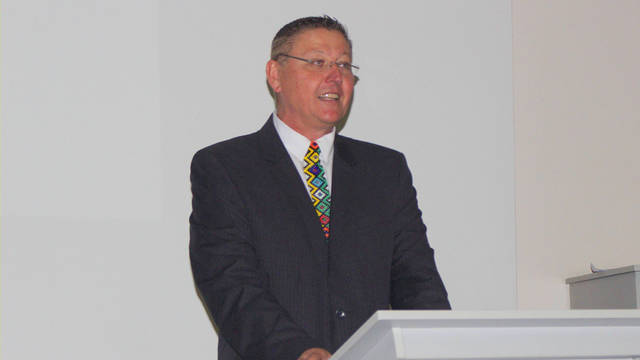 Rhodes University's Professor Russell Kaschula was invited to give the inaugural talk at the prestigious BB Mkonto lecture at Nelson Mandela University on 24 July 2019, as part of the University's commemoration of the International Year for Indigenous Languages. The event celebrated Prof Mkonto's corpus of work.
"It's indeed a privilege to be called upon to honour a great colleague," Prof Kaschula noted.
Prof Kaschula is a Professor in African Language Studies at Rhodes University and SARChI Chair in the Intellectualisation of African Languages, Multilingualism and Education.
The lecture, which was attended by Prof Mkonto's family, is an annual honouring of the Professor's contribution towards the development of African languages and literature. Representatives from the Department of Arts and Culture, Traditional Leaders, school learners as well as academics from across the country were in attendance and packed the NMU Council Chambers.
Prof Kaschula's lecture, entitled Language, ideology, identity and the voice of protest in Africa addressed how language needs to be used responsibly, especially when it comes to protest, identity and conflict. "Multilingualism remains key to social cohesion both globally and nationally," explained Kaschula. "And 'othering' can leave one feeling displaced in society. This needs to be corrected in relation to multiculturalism and interculturalism – which is the focus of much of my research and my being."
Prof Kaschula thanked Prof Mkonto for his influence as an intellectual, philosopher and unifier.
"Language is what binds humanity together – it is a unifier," he said. "People create the conflicts and language often finds itself in the middle."
Prof Mkonto was a leading isiXhosa Professor, foremost thinker and creative writer at Nelson Mandela University until his retirement in 2009.