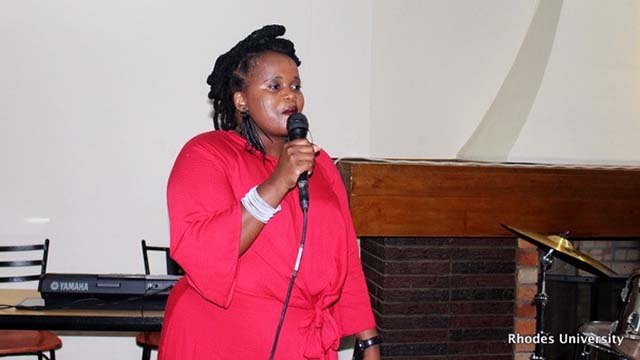 By Julian A Jacobs, PhD candidate, School of Journalism and Media Studies
The Rhodes University Postgraduate Hall hosted a dinner in honour of new Masters and PhD graduates on 13 April 2019 at the Bantu Steve Biko Oppidan Dining Hall.
Addressing those in attendance, Dr Nosiphiwe Ngqwala, Senior Lecturer in Pharmacy and the master of ceremonies, related stories of her life as a student on campus. She also echoed the University Vice-Chancellor Dr Sizwe Mabizela's message to graduates: "As a Rhodian, you have to brighten the corner wherever you are."
She explained that the special event was about celebrating accumulative achievements of the last few years. "At Rhodes University, we are creating job developers, creators, and innovators – not job seekers," she exclaimed to enthusiastic applause.
Professor Lawrence Juma, Hall Warden of Postgraduate Residence and the Deputy Dean of Law, reiterated that this momentous occasion is where the University recognises all the Masters and PhD students who have passed. "I want us to grow this event into an even bigger affair and, considering all the support it gets from University management, I do believe this can be achieved."
Prof Juma believes next year should be bigger and more prominent as we continue to encourage students to not only further their studies, but to return to Rhodes University to continue their postgraduate studies."
In addressing new Alumni, the President of the Old Rhodian Union (ORU), Professor Rod Walker, encouraged all students and lecturers to join the ORU. "You can become a member of the ORU after completing one year at the University," he said.
"Our motto is to do 'friend' raising and not just 'fund' raising. We have disbursed 42 bursaries this past year with grants of between R7 000 and R15 000. Our aim is to raise more money and to get to R1 million per year for the next few years, as our cohort of postgraduates and undergraduates grow at this University," said Prof Walker.
Deputy Vice-Chancellor of Research and Development, Dr Peter Clayton, acknowledged that there is a huge gap between finishing high school and completing your undergraduate degree, but that there is an even larger gap between finishing your undergrad and completing your postgraduate degree. "There is no denying that you have been through a difficult journey. But don't forget, this experience is your badge of honour and it will take you places.
He explained that Rhodes University prides itself on the level of education it provides to its students, the manner in which it gives back to society (through community engagement) in the new knowledge the University produces as a whole. "Without you, we are nothing," Dr Clayton declared.
The evening was interspersed with local South African music provided by the Makhanda Marimba band and a local Rhodes University band, Three over Five.
The evening ended in tremendously high spirits, with Postgraduate students and staff joining together in celebration of past achievements and with confidence in a brilliant future.
Please access the Photographs HERE
https://drive.google.com/drive/folders/1W921f236B1icpTZ9lAv1uuG4rFlrnbIm?usp=sharing