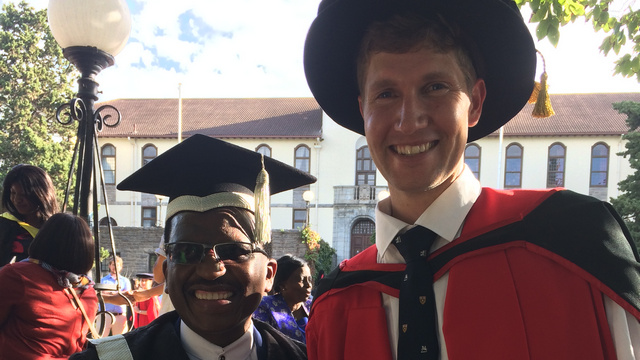 By Zandile Hlabangane, fourth-year BJourn
Matthew Weaver, who recently graduated with his PhD in Water Resource Science, was the last doctoral student supervised by the late Emeritus Professor Jay O'Keeffe, Founding Director of the Institute for Water Research (IWR).
Weaver spoke to fourth-year BJourn student Zandile Hlabangane about his close connection with his supervisor, Professor O'Keeffe.
Q: When did your relationship with Professor O'Keeffe begin?
A: Jay knew me as a child. I grew up in Grahamstown in my early years and he was a good family friend. I went away for the rest of my undergraduate schooling, but returned to Grahamstown at the end of 2013. This is when I had a meeting with Professor O'Keeffe and Professor Tally Palmer [head of IWR] about starting my Masters with them. That is when I met him more in an academic sense.
Q: Why did Professor O'Keeffe maintain a keen interest in your work?
A: My work is based on improving water access and social-ecological water justice in Makana. Jay lived here for a huge part of his life, so he definitely had a vested interest in Grahamstown and the Grahamstown community. I think it appealed to his ethos of trying to make the world a better place.
Q: How did the passing of Professor O'Keeffe affect you?
A: It was a huge shock to hear that he had been diagnosed with terminal liver cancer. I was able to spend a bit of time with him and had quite a few chats and meetings with him at his house, so I think I was able to process his passing quite well. When I heard that he had been diagnosed, I was in the final stages of writing my PhD. It was very intense, as I needed to put in massive hours in, and his condition inspired me to really push it and put in a quality piece of work. I also owed it to Jay to give it everything I had and I wanted to finish it before he passed, so he could see what his efforts had yielded.
Q: Do you believe that you will carry the legacy of Professor O'Keeffe forward?
A: This is a tough one because he was a larger than life human being, so it is difficult to take on that mantle of Jay's legacy as an individual. However, I think some of his values and his work ethos I would aspire to take forward. For instance, despite all his accomplishments, he didn't put himself at centre stage. He was very good at enabling others and inspiring others, so I hope I can imbue some of those traits and that kind of leadership influence in myself.
Q: What is one of the most important lessons you learnt from Professor O'Keeffe, regarding your thesis?
A: He was a firm believer in the 80/20 rule. So it takes 20% of your time to do 80% of the work, and then to try and complete that extra 20% of work to get it to that 100% level, it will take 80% of your time. So basically try not to agonise over your work, just get that 80% work done in the 20% time and then you will almost be all the way there. Perfection is the enemy of good. Jay also emphasised the importance of making one's research limitations and pitfalls explicit rather than waiting for the examiners to pick them out.
Q: In what other way did Professor O'Keeffe contribute towards your thesis?
A: When called upon, Jay was quick to read and give feedback on my thesis. In the early parts, when I was still collecting data, my research was very much imbedded in social systems and civil society groups engaging with water issues, and he would take part in these processes.
Q: How important is water research for you?
A: Water is a connector between all life. Water spans multiple disciplinary boundaries and its research can address all manner of societal issues that we face today. So having a strong water research basis is critical for sustaining all life on the planet.
Q: Why do you think water resource science is so important for the world, especially with regards to the water crisis in Makhanda?
A: Water scarcity is regarded as one of the most important and critical challenges facing the world today. If we relate it to the current crisis in Makhanda, it is probably not something that we are just going to get over – it is something that is going to be more frequent as the years go on [worldwide], so we need to be able to live with it and change our behaviour and how we interact with water and manage water. Water is not only about water in taps and managing water in rivers, but it has huge social, political and economic facets and these are complex. It is important that we continue to seek to understand the complexities of water management and use. We should engage in research that builds civil society understanding, competence and agency to be able to manage catchments sustainably.
Q: What future changes are you hoping to make towards water sustainability?
A: I definitely hope to catalyse change in water sustainability, starting at a local level. My research involved the establishment of a local engagement platform called 'The Makana Water Forum', a place where citizens could engage with water governance processes. So I don't want to see that fall to the wayside – I would like to continue working and building the sustainability of this Forum in the Makana context. At a regional or provincial scale, I'd like to get more involved in water governance processes. Conducting research that is interventionist in a nature and that serves to increase our understanding of water governance, but also serves to improve the governance processes themselves, so that we manage water more sustainably.