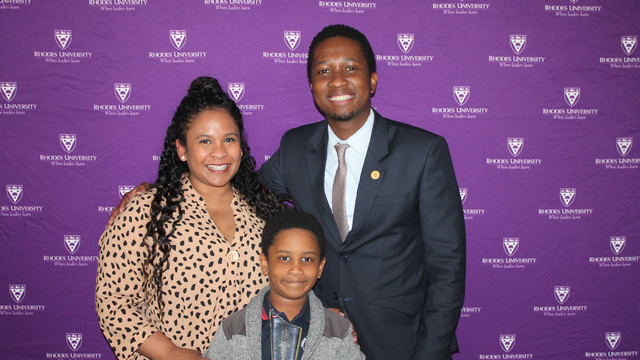 By Boitumelo Nte
Rhodes University's 2019 Distinguished Alumni Awards Luncheon was presided over by the Old Rhodian Union (ORU) Vice-President, Professor James Gambiza, who introduced each of the awardees.
The University honours Old Rhodians who have achieved excellence in their careers and who, through their individual actions and achievements, have enhanced the reputation of the University.
The Award is specifically intended to acknowledge alumni as role models and, in essence, is the greater family of Rhodes University awarding one of their own.
In absentia were awardees Prof Roger Brooke, Ms Johanna Mukoki, Judge Kathleen Satchwell and Mr William Smith.
Vice-Chancellor, Dr Sizwe Mabizela, presented those present with their awards.
At the luncheon were scientist and health academic Dr Clive Shiff, who was a 2018 awardee and travelled from the United States of America to attend the ceremony this year; attorney and academic at the University of Cape Town (UCT) Mr Popo Mfubu; and Ms Buhle Mazosiwe, who accepted the award on behalf of finance professional, Mr Zukisa Pityana.
Dr Shiff graduated from Rhodes University with an MSc in Zoology and Entomology in 1956, and obtained his PhD from the University in 1964. He is now a renowned medical scientist in America's health sector, and a leading research academic at the Johns Hopkins University in Baltimore.
Thanking the University in his acceptance speech, Dr Shiff said that this particular acknowledgement was 'most special' among his other accolades, and that it was his time in Makhanda (Grahamstown) that truly developed his character.
Mr Popo Mfubu similarly expressed how the Award holds a special place in his heart, and reflected on how the University's Law Department ignited his sense of social justice and instilled in him a desire to add meaning to his career endeavours. Mfubu works for UCT's Refugee Rights Unit, which provides legal assistance to refugees and asylum seekers in Cape Town. He completed his LLB degree at Rhodes University in 2011, and was admitted as an Attorney of the High Court of South Africa in 2014, after completing his articles at UCT.
Mazosiwe, who received the award in Pityana's absence, also thanked Rhodes University for moulding the young lives that arrive at the institution. Mazosiwe explained that Pityana's vision to establish the Ntombesizwe Scholarship in 2018 inspired them to remember their alma mater. The Scholarship was born from a recognition of the social and economic exclusions black girls face, and began its funding to one Makhanda-born student attending Rhodes University this year. The recipient is on a full scholarship, which Pityana envisages will extend to at least two students in 2020.
Pityana is an Equity Analyst at the Old Mutual Investment Group and an advisor to the Construction Management Foundation.
For a list of all the 2019 Distinguished Alumni Awardees, please click here.