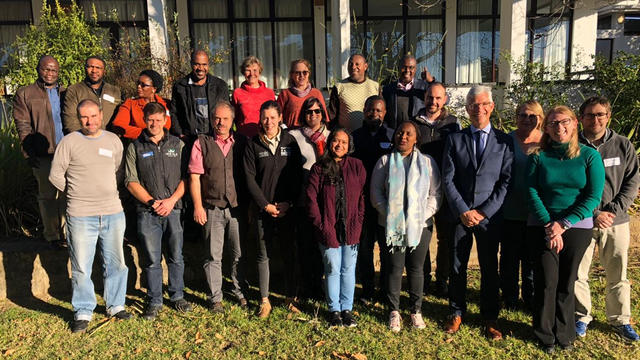 Rhodes University's Research Office and Animal Research Ethics Committee (RU-AREC) hosted a successful three-day Animal Research Ethics Training course between 2-4 July at Postgraduate Village.
The first day targeted all Rhodes University researchers, postgraduate students, academic staff members and laboratory technicians who are involved in animal research. The sessions covered the fundamentals of animal research ethics and was attended by representatives from the Departments of Zoology, Entomology, Ichthyology, Biochemistry, Microbiology and Pharmacy.
The second and third days were aimed at animal ethics committee members from a variety of Eastern Cape universities and research groups including Rhodes University, the South African Institute for Aquatic Biodiversity (SAIAB), Nelson Mandela University (NMU), Walter Sisulu University (WSU), and Fort Hare University (FHU).
"The aim of these two days was to train intermediate-level ethics committee members on topics such as role of ethic committees, sample size calculation, scientific quality aspects, and so on," explained Rhodes University's Ethics Coordinator, Siyanda Manqele. "The training was a success as members were able to engage across committees."
Participating Ethics Committees provided practical protocols which were used as case studies in the workshops, with personal identifying information censored.
"These case studies were used to highlight specific challenges in animal ethics and to stimulate debate," Manqele explained.
Both days were facilitated by one of the country's most experienced registered veterinarians, Dr Bert Mohr, Director of Scientific Veterinary Consulting who also works as a Director of Animal Research Unit at University of Cape Town and is a member of the National Health Research Ethics Council (NHREC) animal research division.