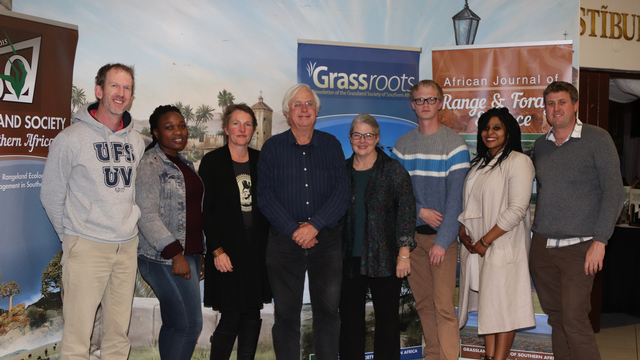 True to Rhodes University's vision of producing research that contributes to solving South Africa's problems, researchers and students from several departments have recently featured prominently among the awards and keynote presentations of two events dedicated to managing and rehabilitating South Africa's natural resources.
At the annual meeting of the Land Rehabilitation Society of Southern Africa (LaRRSA), Emeritus Professor Roy Lubke from the Botany Department was an invited plenary speaker and received a Lifetime Achievement Award for his outstanding contribution to restoration ecology. He is a Founding Director of Coastal & Environmental Services, an environmental consulting firm that has employed and kick-started the careers of many Rhodes University graduates.
The annual Congress of the Grassland Society of Southern Africa (GSSA) is a meeting point for researchers, students and practitioners interested in the advancement of rangeland ecology and management. This year, Rhodes University was particularly well represented.
Dr Tony Palmer, a Research Associate in the Department of Environmental Science who has supervised numerous Rhodes graduates, received the Meritorious Award made to a member of the GSSA in recognition of exceptional service to the Society. Dr Iain Paterson (Centre for Biological Control) and Professor Susi Vetter (Department of Botany) were both invited keynote speakers. Dr Ralph Clark, a PhD graduate of the Botany Department at Rhodes University and now an academic at Free State University, won the award for the Best Paper presented at the Congress.
Three students and Professor Tally Palmer from the Institute for Water Research also attended and presented their work.