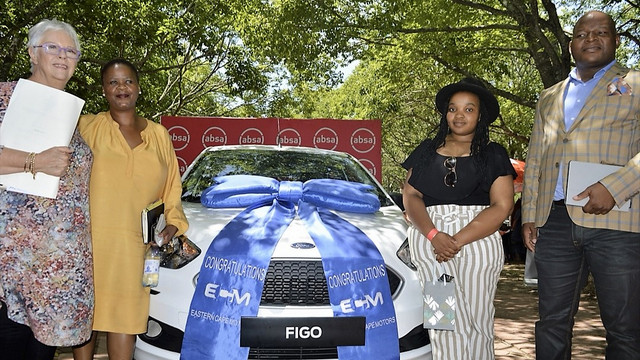 Excited Rhodes University Pharmacy student, Mpho Kotolane, was recently handed keys to her new Ford Figo by Absa at Rhodes University.
The bank ran a competition in 2018 where any student signing up for and using a Gold Graduate or Student Silver Account would stand a chance to win a Ford Figo.
Absa's involvement with Rhodes University is nothing new. Last year, the bank donated a cheque of R2.4million from its CEO Scholarship Programme, which went to a group of 49 students, predominantly from the "missing middle" group across all faculties.
In the past two years, Absa has funded over 6 500 university scholarships for young people across Africa. Twenty-one universities in South Africa are being supported, including Rhodes University.
The Ford Figo prize-giving ceremony was opened by Deputy Vice-Chancellor of Student Affairs, Dr Chrissie Boughey, who welcomed the guests.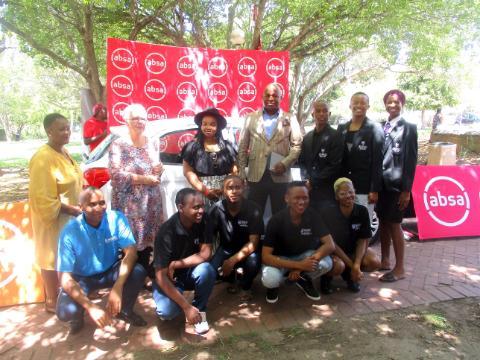 Our Student Representative Council join in the celebrations
After Absa Provincial Executive Mr Pholushi Malesa announced the winner, he stated that this competition was run throughout the 2018 period and included students from all universities in South Africa. "Absa takes pride in taking part in community-building and this competition was one of the ways that the company seeks to benefit its clients. Since 2016, Absa has contributed R35million to universities in order to assist students that are passionate about their careers," he said.
When Absa had first contacted the winner, Mpho, she admitted to initially thinking it was a scam. "Imagine my joy when I realised it wasn't!" she exclaimed. She is very grateful to Absa, especially considering she is about to join the working industry.
This year, Absa is running a competition where 10 students stand to win R20 000 towards their studies if they open and use their Absa Student Silver or Gold Graduate Account before 30 April 2019.